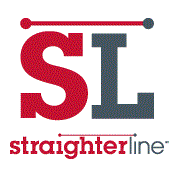 This program will provide access to cost-effective, high-quality educational resources for individuals who want to further their education and professional development goals.
Baltimore, MD (PRWEB) October 02, 2013
StraighterLine (StraighterLine.com) announced today that Envision Healthcare, a leader in the development and implementation of responsive, compassionate and innovative healthcare solutions, is offering StraighterLine courses to employees and their immediate family members as an option for their education. Through this partnership, employees have the opportunity to advance their careers and pay less for college, an increasingly valuable benefit given today's skyrocketing costs of education. StraighterLine's extremely flexible self-paced online college courses also provide employees the ability to take and complete classes on their own schedule, helping ease the burden of balancing a busy lifestyle while earning a college degree.
Envision Healthcare employees will have the opportunity to enroll in any of StraighterLine's online college courses in the Sciences, Humanities, English, Math, Business, Language and College Prep. More importantly, with the upcoming conversion to ICD-10 in October 2014, StraighterLine provides two AHIMA-approved ICD-10 Foundation courses for healthcare organizations and healthcare professionals in need of training for the transition. These courses, Anatomy & Physiology I and Medical Terminology, have been approved by AHIMA for 18 CEUs and 15 CEUs, respectively.
StraighterLine helps students get a quality education online, flexibly and conveniently, at a substantially lower cost than most traditional degree programs. Students can take college prep, freshman and introductory-level classes through StraighterLine and save thousands of dollars on the cost of college. With StraighterLine's affordable monthly subscription pricing plan or the ability to take "Freshman Year for $1,299," students can save up to 90% on their first year of college and can move through the material as quickly or slowly as they like. Many students take their required college courses from StraighterLine before moving on to partner schools to earn their degree. This year, StraighterLine estimates that 20,000 students will take courses with the online college course provider.
"This relationship highlights our commitment to providing outstanding educational opportunities for our team members," said Kimberly Norman, Senior Vice President of Human Resources for Envision Healthcare. "This program will provide access to cost-effective, high-quality educational resources for individuals who want to further their education and professional development goals."
"By including StraighterLine as one of Envision's employee education options, Envision gives employees a way to get ahead without mortgaging their future. This is critical in a field as dynamic as healthcare," says Burck Smith, CEO and founder of StraighterLine.
About Envision Healthcare:
Envision Healthcare offers an array of healthcare-related services to consumers, hospitals, healthcare systems, health plans and local, state and national government entities. For more information regarding Envision Healthcare, please visit http://www.evhc.net/.
About StraighterLine
StraighterLine has been recognized as a revolutionizing force in education by major news organizations and the U.S. Chamber of Commerce for offering students online courses that earn college credit for just $99 a month and an entire year's worth of college courses for just $1299. Inside Higher Ed recognized StraighterLine for offering the "...lowest-cost set of credit-bearing courses on the Internet." And Fast Company named StraighterLine one of the "10 Most Innovative Companies in Education."
In order to facilitate the award of credit, StraighterLine has forged partnerships with leading accredited online colleges and universities. A student ultimately earns a degree from those institutions but realizes tremendous savings and convenience by starting with StraighterLine.
StraighterLine's courses have been evaluated and recommended by the American Council on Education's College Credit Recommendation Service (ACE CREDIT). More than 2,000 colleges and universities consider ACE CREDIT recommendations in determining the applicability to their course and degree programs. In addition to the institutions with which StraighterLine has a direct relationship, more than 350 other schools are reported to have accepted StraighterLine coursework for transfer credit.
Currently, StraighterLine offers entry-level college courses online in the Sciences, Humanities, English, Math, Business and Language. Many StraighterLine courses are now offered in both self-paced and professor-led formats. 5 StraighterLine courses have been approved by The College Board to be listed as AP courses. As a pioneer in the movement to revolutionize college for America, StraighterLine also offers alternatives to college courses including Prior Learning Assessments and credit-by-examinations that let students earn college credit for knowledge and life experiences they already possess.
For information, visit StraighterLine.com or call 1-877-str8erline (1-877-787-8375).
###