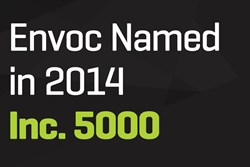 "Our motto here at Envoc is to 'Create a better reality,' and our growth is a reflection of our success in doing so for our clients and staff."
Baton Rouge, LA (PRWEB) September 04, 2014
Inc. Magazine, a monthly publication that focuses on supporting and inspiring entrepreneurship in the United States, releases a list of the 5000 fastest growing companies in the US each year. This elite list includes only US based, privately owned organizations and the rankings are based on annual revenue growth over a three year period—March 31, 2010 to December 31, 2013. Startups such as Microsoft, E*Trade, GoDaddy, and Papa Johns found themselves showcased on the Inc. 5000 list long before they became household names, and now Baton Rouge's own Envoc joins this prestigious group of companies.
Envoc is a development and design firm that specializes in custom software services, corporate brand and Web presence, and mobile application development. Essentially, businesses go to Envoc with inefficiencies and problems, and Envoc uses and creates customized software to provide a solution. Founded in 2004, Envoc has grown to 27 employees and two locations, and earned the #2652 spot on the 2014 Inc. 5000 list after ringing in the 2013 year with revenue of $2.4 million—a 141% revenue growth from 2010 to 2013. Out of the 41 Louisiana companies who made the list, Envoc is ranked 18th.
This year's Inc. 5000 list is the most competitive compilation of businesses since Inc. Magazine started the list thirty-three years ago. The average three-year revenue growth of the list was 516%, the aggregate revenue was 211 billion dollars, and the companies created over 505,000 jobs in the work force combined. "We're extremely honored to make Inc. Magazine's list of the fastest growing private companies in the United States," stated Calvin Fabre, Founder and President, "our motto here at Envoc is to 'Create a better reality,' and our growth is a reflection of our success in doing so for our clients and staff."
About Envoc
Envoc is a Louisiana-based Design and Software Company partnered with the Southeast Louisiana Business Center that provides software solutions from "conception to consumption." Services range from custom branding campaigns, web design, UI-UX, mobile applications, intranets, portals, custom software, and web applications to off-the-shelf software, including BubbleVision, AppMelt and FlipFire. Envoc has offices in Baton Rouge and Hammond. Envoc does not outsource any of its work.
Learn more about Envoc at http://www.envoc.com, or follow us on Facebook, Twitter (@envoc) or LinkedIn.