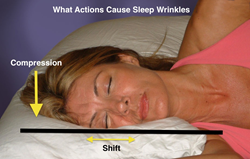 Have you ever woken up in the morning and found a weird line? This is where it comes from... (sleeping on your face). ~ Dr. Julia Carroll, Dermatologist
Oakville, ON, Canada (PRWEB) July 18, 2016
The creators behind the enVy Pillow Company announced today the availability of their newest anti-aging product; the enVy Copper Pillow. This latest addition to their "Off-Your-Face" spinal alignment pillow offers the same quality of sleep, spinal wellness and anti-aging benefits of the original ergonomic anti-aging /wellness pillow with an added ingredient; Copper gel particles. The entire enVy Pillow line prevents unwanted sleep wrinkles and promotes optimal wellness and comfort by providing proper head, neck and spinal support. It is endorsed by anti-aging Doctors, Dermatologists as well as Chiropractors, Physical Therapists and Registered Massage Therapists who recommend the enVy™ Pillow because of its cervical spinal support and natural wrinkle treatment. This special edition enVy Copper includes a custom fitted 100% Bamboo pillowcase has been designed to meet the need of consumers that find traditional memory foam pillows too warm.
Kim Renton and Kathy Young Keefe, Founders of the enVy Pillow Co., patent holders for the enVy™ anti-aging pillow line stated that, "Copper is a cool addition to our enVy® line of natural ant-wrinkle pillows. The Copper infused gel particles in our open cell breathable memory foam provides high conductivity enhancing the pillow's thermal properties to help dissipate excess body heat, providing a cooler and more comfortable sleep. "
The company also chose to add copper to their memory foam for its important antioxidant and antimicrobial properties. According to COO Kim Renton R.N, "Copper gel particles are an eco-friendly mineral that not only offers natural wrinkle treatment but naturally provide anti-microbial protection against viruses and bacteria including influenza viruses and E. Coli. There really isn't a down side to adding Copper particles to the pillow.".
Anti-Aging experts have described Copper as the latest "beauty ingredient". Scientists say It helps to promote collagen and elastin - which keeps your skin strong as it ages - and encourages it to produce hyaluronic acid, which has a plumping effect. This added benefit of cooling is beneficial for those who find traditional memory foam pillows too hot to sleep on. When enVy Copper foam is compressed by your body the otherwise evenly dispersed copper particles become concentrated at the surface of the foam delivering the anti-microbial, anti-aging effects close to your skin which amplifies the health benefits to the consumer while they sleep.
Kathy and Kim say, "After introducing our original anti-aging pillow on Dragons' Den it was a natural next step to increase the enVy pillow line by introducing the enVy® Copper Anti-Aging Pillow - the first and only copper infused therapeutic pillow on the market."
The enVy Pillow Company's anti-aging line of products reduces sleep wrinkles, promotes "Off-Your-Face" positioning after cosmetic procedures and maintains the benefits derived after cosmetic surgery while keeping the neck and spine in correct alignment. In The Journal of Cosmetic Surgery in 1987, Dr. Samuel J. Stegman stated that "sleep creases" develop due to sleeping on one or both sides. He observed that the wrinkles diminished when pressure was removed from the delicate tissues during sleep. A recent statement from the American Academy of Dermatology reinforces the aging effects of our beauty sleep with our faces pushed into a pillow every night. The v-shaped design of the enVy™ Pillow ensures the face is free from compression with its minimal face-to-pillow contact design.
The enVy™ Copper pillow has the same ergonomic V-shaped design as its ancestor and is made with Canadian made hypoallergenic memory foam which is resistant to dust mites, naturally anti-microbial, self-moulding and stays soft and supportive even when temperatures drop below freezing. EnVy™ comes with a durable satin travel bag allowing the user to keep it protected during transport.
The enVy™ Pillow line can be purchased at Murale, Plastic Surgery, Dermatology, Med-Spa, Chiropractic, Physiotherapy and Wellness clinics across Canada /USA and retails from $99 - $199.00 plus tax. Locations listed at http://www.envypillow.com.
The enVy Pillow Co. was founded in 2009 by two registered nurses, Kathy Young Keefe and Kim Renton with a mutual interest in anti-aging medicine and preventative health.
If you would like more information about becoming an authorized dealer please email info(at)envypillow(dot)com.