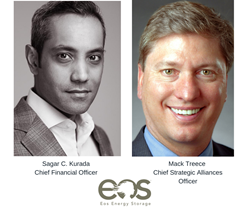 Eos is entering a period of tremendous growth, and it is paramount that we have a solid leadership team that understands the opportunities for expansion.
EDISON, N.J. (PRWEB) July 13, 2020
Eos Energy Storage, the leading manufacturer of safe, low-cost, and long-duration zinc battery storage systems, is proud to announce the appointment of a Sagar C. Kurada to Chief Financial Officer. Sagar will join the management team to help drive the future growth of Eos. The timing of this announcement comes on the heels of news that B. Riley Principal Merger Corp. II has entered a business combination transaction which will result in Eos becoming a publicly listed company.
"Eos is entering a period of tremendous growth, and it is paramount that we have a solid leadership team that understands the opportunities for expansion," commented Joe Mastrangelo, CEO of Eos. "Sagar complements our team and brings the exceptional finance experience and skills that are needed as we transition into a publicly-traded company. Mack has made tremendous contributions to help bring Eos to its current level. Building a strong ecosystem is an important aspect of our business growth and I look forward to Mack's contributions. I am excited to welcome Sagar to our team and I congratulate Mack on his new role."
As CFO, Sagar will be responsible for Eos' overall financial strategy and direction, overseeing all financial functions to guide the controller, treasury, shareholder relations, accounting, tax, financial planning, and internal audit functions. He will lead the financial operations as the company executes on its growth strategy and exceeds its clients' and investors' expectations.
"I'm proud to be a part of the future of sustainable energy and have found an excellent fit with the team of Eos," commented Sagar. "As we move forward, I am committed to maximizing long-term shareholder value, ensuring a balanced portfolio of growth initiatives, and maintaining the high level of integrity and transparency for which Eos is known."
Prior to joining Eos, Sagar held previous CFO roles with HighTower Advisors and in multiple GE operating entities, and he also worked in the private equity consulting practice at FCM. Throughout his 20-year career in financial strategy, planning, accounting, auditing, Sagar has established a reputation for building world-class teams and for aligning financial and business interests to support business strategy and high-growth. He has led multiple equity and debt financing rounds and raised significant capital to support business growth. Sagar holds a BS in Finance and Technology from Rensselaer Polytechnic Institute and an MBA from Columbia Business School.
With Eos' recent letter of intent with B. Riley Principal Merger Corp. II, Eos will become a publicly listed company and see approximately $225 million of additional new equity financing. As CFO of Eos, Sagar will leverage his knowledge and more than 20 years of experience to support delivering enterprise value and business growth.
About Eos Energy Storage
At Eos, we are on a mission to accelerate clean energy by deploying stationary storage solutions that can help deliver the reliable and cost-competitive power that the market expects in a safe and environmentally sustainable way. Armed with a patent for a membrane-free zinc battery technology, Eos has been pursuing this opportunity since 2008 when it was founded. Eos Energy Storage has 10+ years of experience in battery storage testing, development, deployment, and operation. The Eos Aurora® system integrates the Company's aqueous, zinc battery technology (Znyth®) to provide a safe, scalable, and sustainable alternative to Lithium Ion. https://eosenergystorage.com/.