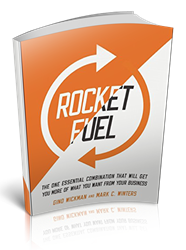 "Rocket Fuel is a powerful model for freeing up entrepreneurial visionaries to do what they do best. Gino and Mark provide a practical game plan for building an organization that perfectly combines vision and integration."
LIVONIA, MI (PRWEB) April 12, 2016
The Amazon #1 Bestseller that sheds light on the two most critical leadership roles of any business is now available in paperback. Gino Wickman, founder of the Entrepreneurial Operating System® (EOS), and co-author Mark C. Winters have released a paperback edition of their book that reveals the critical roles of a company's Visionary and Integrator.
Rocket Fuel: The One Essential Combination that Will Get You More of What You Want from Your Business demonstrates how businesses need both a Visionary and an Integrator in order to reach the next level of success:
Visionaries are known for their groundbreaking ideas, yet often don't have the skills to make those ideas a reality.
Integrators excel at implementing initiatives, yet may not possess the foresight or imagination of a Visionary.
Rocket Fuel examines how these two critical leadership roles are essential to moving a company forward. Gino and Mark help Visionaries and Integrators crystallize their thinking, get connected, and ultimately maximize their relationship.
The book also includes assessments to help readers determine if they are a Visionary or an Integrator, and better understand what to look for in their ideal counterpart. Additional tools and resources can be downloaded from http://www.rocketfuelnow.com.
"Without an Integrator to turn a vision into reality, a Visionary is far less likely to succeed long-term and realize the company's ultimate goals," Wickman said. "Likewise, without a Visionary, an Integrator can't rise to his or her full potential. When these two people share their natural talents and innate skill sets, they have the power to reach new heights at virtually any organization."
"We're very excited about the effect we've seen Rocket Fuel have on small businesses," Winters said. "The title captures the significance of the Visionary-Integrator partnership. When these two people work together, the impact on a company's success is unparalleled."
Rocket Fuel is Wickman's third book and builds upon the business concepts of his previous books. Traction, introduces the principles of the Entrepreneurial Operating System (EOS) and Get a Grip, co-authored with Mike Paton, illustrates how to implement it in a business.
A free chapter of Rocket Fuel is available for download at the EOS Worldwide website: http://eosworldwide.com/rocket-fuel/.
The book is available in bookstores, and online through Amazon, Barnes & Noble, BenBella.com and other popular retailers.
###
About Gino Wickman
Gino Wickman is the creator of the Entrepreneurial Operating System ® (EOS), a holistic system that helps leaders run better businesses, get better control, have better life balance, and gain more traction. He is the founder of EOS Worldwide, a growing organization of successful entrepreneurs from a variety of business backgrounds collaborating to help people throughout the world experience all the organizational and personal benefits of implementing EOS.
About Mark C. Winters
Mark C. Winters has a passion for helping entrepreneurs get unstuck so they can pursue their freedom. As a Certified EOS Implementer, coach, and facilitator, Mark directly engages with entrepreneurial leadership teams. With more than 25 years of entrepreneurial experience, Mark has led a range of companies, from raw startups to multi-billion dollar global enterprises such as Procter & Gamble and British Petroleum.
About EOS Worldwide
For over 15 years, EOS Worldwide has given entrepreneurial managers and leaders a complete operating system and a suite of simple, practical tools for getting everything they want from their businesses. The Entrepreneurial Operating System effectively strengthens businesses in most industries, and helps align assets, resources, and human energy to exceed expectations. EOS Worldwide is based in Livonia, MI. To learn more about the Entrepreneurial Operating System, visit http://www.eosworldwide.com.