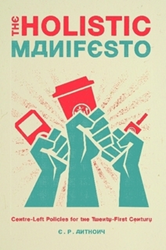 SINGAPORE (PRWEB) November 14, 2016
Oxfam, an international federation of charitable organizations, tells that the combined wealth of the richest one percent will overtake that of the other 99 percent of people this year. Unless the current trend of rising inequality is checked, the same federation tells that this situation holds back the fight against global poverty. In the growing discourse on inequality, especially in the height of the U.S. Presidential election, inequality is the central focus of E. P. Anthony's first published book, "The Holistic Manifesto" (published by Lulu).
The author considers inequality as one of the biggest and most topical problems in Western society today. Anthony's book particularly deals on the political economy of inequality, examining its causes and offers politically feasible policy solutions to it. Anthony emphasizes that there are practical solutions to inequality, that the situation is neither hopeless or requires extreme solutions.
"The book attempts to make some complex economic and political writing on the problem of inequality accessible to the non-specialist, and offers feasible policy solutions to the problem," the author describes his book.
An excerpt from the book:
The last few years have been marked by the publication of several important books about the political economy, inequality, and the social breakdown of the developed countries of the West. These books have been huge in their scope, questioning the form of capitalism and the structure of society in the twenty-first century. The solutions to these problems will not be the usual technocratic tweaks to the economic consensus, which have been the norm since the general acceptance of the Reagan-Thatcher revolution of the 1980s.
"The Holistic Manifesto"
By E. P. Anthony
Softcover | 6 x 9in | 328 pages | ISBN 9781483455099
E-Book | 328 pages | ISBN 9781483455082
Available at Amazon and Barnes & Noble
About the Author
E. P. Anthony's family on his father's side is deeply rooted in the traditional working class socialism of the U.K. Labour Party. He was fortunate enough to attend the London School of Economics and study under lecturers who are now leaders in many of the fields covered in the book. Anthony has spent over 20 years in the financial services industry as a trader. As a wealth manager, he has seen the excesses of the finance industry and the mindset of the plutocrat class at firsthand. He has lived and worked in London, Singapore, Tokyo and New York. His current whereabouts are unknown.
Lulu empowers people of all ages to explore and express their interests, passions and expertise through books, photography and art. Since introducing self-publishing in 2002, Lulu has empowered creators in more than 225 countries and territories to produce nearly two million publications. Lulu Jr. allows children to become published authors, encouraging creativity, strengthening literacy and building self-esteem. Picture.com offers professional photography of collegiate and professional sports, memorable and historic events, fine art and home décor. For more information, please visit lulu.com.