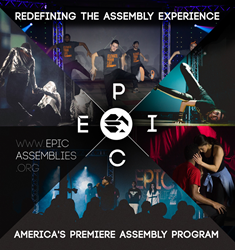 Heat-of-the-moment decisions have the potential to inflict lifelong consequences.
Tucson, AZ (PRWEB) April 14, 2015
Through drama, dance, live music, and spoken word poetry, EPIC Assemblies provides a 60-minute performance created to educate, inspire, and challenge their audiences. Everything is personal; the stories that are shared are all personal experiences from these elite artists. They target a variety of issues such as, drug addiction, alcohol abuse, suicide, bullying, abusive relationships, STDs, and more, while inspiring the feelings of hope, freedom, and life change. The new technology being introduced adds a new dynamic to the performances, as the answers from the students' smartphones are able to be calculated quickly, giving the students real time data. Students see that these issues are happening in their own back yard. They may see that they are not alone for the first time or that perhaps someone sitting next to them may have answered yes to the questions of, "Have you ever contemplated suicide?" or "Have you ever been a victim of cyber-bullying?," to name a few.
With social media having the hold that it does over the youth, things like cyber-bullying and sexting are all too common and both can have crippling effects. Social media has altered the taboo that was once associated with the sending of sexually explicit photos. Channing, one of EPIC Assemblies newest members, dealt with a similar situation herself. "Heat-of-the-moment decisions have the potential to inflict lifelong consequences," says Channing. "During a momentary lapse of judgment, I gave into the pressures of "sexting," and as a result, my nude photo fell into the wrong hands." She encourages students never to send a photo they wouldn't be comfortable with the entire world seeing. One USA Today article points out how easy it is for these seemingly harmless photos to come back with exponentially worse repercussions, ranging from photos being spread about, receiving a felony charge if any of the parties are under 17, or even dealing with the blackmail that can stem from another party having ownership of these photos. Of the 130 million images that contained child pornography since 2002, 1 in 4 were initially posted my minors themselves.
In Arizona, heroin use alone is up by 300% since 2007, according to an AZ Central article. The heroin related deaths have followed this steep incline as well, going from a reported number of 65 in 2003 to a reported number of 126 in 2013. Taylor, another EPIC cast member, shares from stage about his addiction and freedom from heroin, telling students about four friends lost in just the last four months, due to drugs and alcohol. He encourages them to seek help to break their addictions, because unlike his friends, it's not too late for them.
When young people see others who identify with their pain and struggles and have overcome what they are dealing with, it gives them hope for a better future and empowers them to make positive changes in their lives. EPIC Assemblies is a catalyst initiating change for young people across the nation. They work with high schools and middle schools, youth focused organizations, faith-based communities, and community organizations. For more information on EPIC Assemblies, or to book them for an event, please visit epicassemblies.org or call 929-335-3742.
About EPIC Assemblies
EPIC Assemblies is a national traveling team that deliver a 60-minute program covering various issues such as: bullying, suicide, sex, abusive relationships, drug addiction, and more. Each team member shares their own personal experiences in an artistic format.
About the NALA
The NALA is a full service marketing agency providing custom personalized service for small to medium businesses throughout the United States.
PR Contact
Tiffani Tendell
805-650-6121 x361