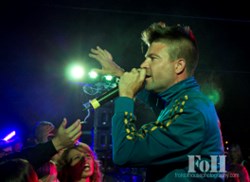 Toronto, Ontario (PRWEB) August 27, 2013
Radio station, 102.1 The Edge, Toronto's authority on alternative music has found themselves in perfect harmony by partnering up with Epic Cruises in Toronto Harbour as their official event facilitator for this concert. All concert equipment including complete sound system, stage and jumbo screen were provided by Epic Cruises in association with Red Entertainment. The only thing left was for the band to show up and rock out. And that they did. In spades. A big favourite in the alternative music scene, local band USS gave their fans a Friday night to remember. Rave reviews were posted after the event, calling the concert an "Amazing time!" and "Unreal show!".
Toronto's Epic Cruises takes the concept of unforgettable parties to the next level. With a well staffed and spacious, upper and lower deck, the River Gambler is able to accommodate a fully functioning, live, remote, radio broadcast station and a full scale rock concert, all at the same time!
Epic Party Cruises do not miss a beat. Security detail, bar and kitchen staff, and of course, a highly experienced crew who do their utmost to assure everyone aboard is in the best of hands. With the two decks, the options for good times are endless. The upper deck boasts the largest dance floor of any boat in the Toronto Harbour. Guests can enjoy the open air, a fully stacked bar and tons of room to tear up the dance floor. The lower deck showcases a newly renovated dining room complete with washroom facilities, another fully stacked bar, an ATM, a menu offering delicious hot food items and complimentary coffee and tea. From beginning to end, they are on point and have everything under control, all that was left for the concertgoers was to simply have the time of their lives.
About Epic Cruises:
Epic Cruises owns and operates the River Gambler a custom made passenger vessel, designed specifically for event cruises in Toronto Harbour. Event coordinators and all needed equipment are provided, and parties anywhere from 150 – 500 can be accommodated. Average cruise time is approximately 5 hours and can be scheduled at noon and sunset. With over 30 years of experience hosting Toronto boat parties, staff are well trained to ensure events are epic!
For More Information Contact:
Roberta Amatiello
Event & Marketing Coordinator
Phone: 416-364-6999
E-mail: mail(at)epiccruises(dot)ca