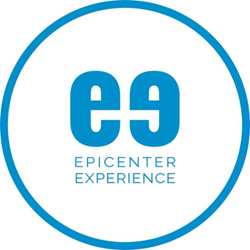 "Our People Platform™ enables brands to connect with consumers and build stronger relationships in a more coordinated fashion than ever before." -- Paul Krasinski, Epicenter CEO
Boston, MA (PRWEB) September 22, 2016
Boston-based entrepreneur Paul Krasinski has combined his extensive experience in consumer insights, ad technology and experience design to launch Epicenter Experience, a new Research as a Service (RaaS)™ technology company.
With access to more than 30 million registered consumers in the United States, Epicenter's People Platform™ is the country's largest mobile community and the only industry provider to offer a deterministic and nationally-representative solution for market research. The technology enables brands to receive real-time feedback and personalize communications across devices and platforms, including mobile, digital and in-store.
"We recognize that people power every facet of our economy, not impressions. It was clear that many industries could benefit from a deeper understanding of their consumers and prospects," said Krasinski. "Current research methods rely on phone interviews, meters, and projections to inform decisions and are simply not scalable or representative of the U.S population. Most importantly, these approaches don't reflect how consumers in our mobile era actually engage or share their perspective. Our platform enables brands to connect with consumers and build stronger relationships in a more coordinated fashion than ever before."
Epicenter will focus on providing audience insights, innovative experiences and community development services to the entertainment, media and consumer product industries. Initial clients include Cisco Systems, Fox Studios, Mohegan Sun and WS Development. The six-person start-up is headquartered in an unconventional space — a mobile tour bus located in the center of Boston's thriving Seaport District.
"We strongly believe that brands, including ours, need to live at the intersection of innovation, creativity, insights and diversity, in order to truly engage, inspire and thrive," said Krasinski. "As such, the epicenter of our journey is a unique mobile office space in the heart of a city that has become a beacon for the creative economy. I am constantly inspired and stimulated by the interesting, world-class people who live, work and play in Boston."
For more information on Epicenter Experience and its services, please visit http://www.epicenterexp.com or contact info(at)epicenterexp(dot)com.
#####