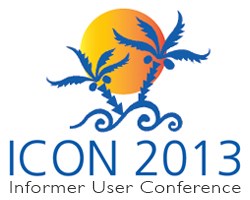 "Informer is a natural fit with CRM systems because of its ability to create sophisticated reports and stunning dashboards with data from multiple data sources."
Austin, Texas (PRWEB) September 17, 2013
Epicom, an Austin-based CRM consulting, development, and integrations firm, today announced its CEO and Founder, Bill Harrison, will present at the Entrinsik Informer User Conference (ICON). ICON will be held in Myrtle Beach, South Carolina September 30 through October 2 and will include in-depth training and best practices to help extend the value of Informer's Business Intelligence (BI) and reporting solution.
Epicom, a leading SugarCRM Gold Partner, partners with Entrinsik to provide customers an advanced solution for reporting across multiple modules and data sources, giving Sugar users a comprehensive analysis of their data in real-time. Entrinsik is the developer of the award-winning Informer software, a self-service operational business intelligence tool that offers customers advanced reporting options.
The ICON agenda will include breakout sessions with members of the Informer product development team, panel discussions on best practices and methodologies, and customer-led use cases demonstrating how Informer is being deployed by customers. Attendees will also get a chance to see new features, updates, and Entrinsik's product roadmap. Bill Harrison's presentation will focus on three customer case studies where companies integrated Informer with SugarCRM using Entrinsik's Sugar Connector. Bill will discuss the challenges each organization faced as they evaluated reporting platforms, why they selected Informer, and how they are using the tool today.
"Informer is a natural fit with Customer Relationship Management systems because of its ability to create sophisticated reports and stunning dashboards with data from multiple data sources," said Bill Harrison, CEO and Founder of Epicom.
As an Entrinsik partner, Epicom can offer its customers a 50 percent discount on registration. For additional information or if you would like to receive the discount code for ICON registration, call 512-481-9000. To learn more about Entrinsik and the Informer conference visit, http://icon.entrinsik.com/icon/2013/.
About Epicom Corporation
Epicom customizes, supports and hosts high-performance web-based Customer Relationship Management systems. Epicom has completed hundreds of successful CRM projects and is one of Sugar's leading North American Gold Partners. Our focus is on consulting and executing complex SugarCRM deployments, customizations and integrations. For more information, call 512-481-9000, visit our website at http://www.epicom.com or follow us on Twitter @epicomcorp.