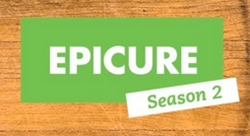 Washington, DC (PRWEB) July 30, 2014
We know pregnancy cravings don't always inspire the healthiest choices—from chips and frosting to peanut butter and ice cream—but the latest episode of the Telly Award-winning web series Epicure with the Chef MDs, just posted online, has a recipe that is delicious, satisfying and, most of all, healthy. In this episode, a James Beard Award-winning chef serves up an easy recipe that supports a healthy diet during pregnancy. Chef Vikram Sunderam is the executive chef at Rasika, which was named one of the 20 top-rated restaurants in the country in Zagat's 2014 Top Restaurant Survey. Alongside is Dr. Amr Madkour, a renowned obstetrician and gynecologist at The George Washington Medical Faculty Associates (GW MFA), offering nutritional information. Chef Sunderam brings the flavor, Dr. Madkour brings the health—and together the experts prepare a tantalizing recipe perfect for pregnant women.
The recipe is for Avocado Banana Chaat, which Chef Sunderam calls "a classic Indian street dish." He spotlights the use of fresh produce, such as avocados and bananas, to satisfy fatty and sugary cravings. Chef Sunderam also selects ingredients so that they each add a distinct flavor and nutritional benefit to the dish. Filled with selenium, vitamins, and antioxidants, the Banana Avocado Chaat offers a nutrient-dense twist on a classic Indian dish that is sure to satisfy all cravings.
This is the fifth episode in the second season of Epicure, the popular web-series that teams Washington, D.C.'s most famous chefs with leading physicians from the GW MFA to prepare simple and healthy recipes. Each episode addresses a different dietary need, such as vegetarian, gluten-free, low-glycemic and neutropenic. Adding a dash of humor is host Marc Silverstein, a former Food Network host and now owner of the public relations company, On The Marc Media. Epicure also offers a free, downloadable cookbook to establish and support smart eating habits and healthier lifestyles.
Try the recipe for the flavor, stick around for the health benefits. This latest Epicure episode on pregnancy recipes definitely delivers.
See what Dr. Amr Madkour and Chef Vikram Sunderam have to say in the latest episode of Epicure with the Chef MDs.
For media inquiries, please contact Marc Silverstein at 202-716-9123 or email Marc(at)onthemarcmedia(dot)com.