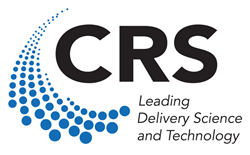 St. Paul, Minnesota (PRWEB) June 10, 2014
In keeping with its 41st Annual Meeting theme, "Translation of Delivery Technology: Innovation to Commercialization," the Controlled Release Society (CRS) has developed a comprehensive education and networking program to connect global scientific leaders, investors, and business development professionals focused on drug delivery and delivery applications in consumer and diversified products and animal health.
"Our diversity is our strength," says Ian Tucker, University of Otago, New Zealand, and president of the Controlled Release Society. "The broad way in which our work is utilized and applied in both pharmaceuticals and non-pharmaceuticals helps us address some of the most pressing and challenging issues along the discovery, development and delivery continuum."
Tucker and members of the Program Planning Committee have chosen speakers and nearly 600 poster presenters eager to discuss their expertise and discoveries. Session titles include "Nanoparticle-Based Delivery to The Brain"; "Interspecies Clinical Pharmacology Dosing Concepts"; "Cancer Epigenetics, Epigenetic Drugs, and Delivery"; "Advancements to Develop and Deliver Biologics"; "Advances in Drug Delivery to the Eye" and many more. Complete details are available online from the meeting website.
"Patient non-adherence to medication takes a huge toll on healthcare budgets and on human health," says Susan Kohn, executive director of CRS. "This year's industry roundtable, titled 'Patient Adherence and the Future of Innovative Drug Delivery' will provide insight on the latest innovative devices, packaging, patient interactive feedback systems, and other future strategies to increase patient adherence and treatment outcomes." Panelists are Gary Cleary, Corium International; Julia Rashba-Step, Pfizer; Ronald Smith, Merck & Company; Cornell Stamoran, Catalent Pharma Solutions; and Tom Tice, Evonik Corporation.
Discounted room rate at the Chicago Hilton available to CRS Annual Meeting attendees through June 18, 2014. Annual Meeting sponsorships are also available. For more information, please contact Cindy Anderson, director of sales, at canderson(at)scisoc(dot)org or telephone +1.651.994.3848.
About the Controlled Release Society
The Controlled Release Society is an international, multidisciplinary society dedicated to delivery science and technology. CRS serves members from industry, academia, and government in more than 55 countries worldwide by providing innovative research, targeted networking, and career advancement.