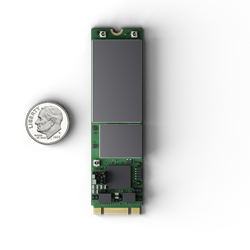 Sidekiq Stretch packs the hardware that would traditionally require three separate cards into a single, modern small form factor radio module.
SCHAUMBURG, Ill. (PRWEB) July 30, 2019
Epiq Solutions, an engineering firm specializing in the development of flexible RF transceiver modules and complete turnkey wireless sensing solutions, today introduced Sidekiq™ Stretch, the newest member of the Sidekiq small form factor software defined radio (SDR) family. The embeddable Sidekiq Stretch integrates an SDR transceiver based on the Analog Devices' AD9361 RFIC for high performance and flexibility, a GPS disciplined oscillator (GPSDO) for high stability timing accuracy, and tunable Rx pre-select filtering for optimum interference protection. These features and others create a complete, high performance, low latency, wideband SDR transceiver in a tiny M.2 2280 card that is ready for integration and deployment. Typical host systems for Sidekiq Stretch include any laptop, tablet, and embedded computer where a PCIe-based NVMe® solid state drive (SSD) is typically supported. Sidekiq Stretch is an ideal choice for military or commercial system designers needing low size, weight, and power (SWaP) for their mission-critical RF applications. Key highlights of Sidekiq Stretch include:

RF tuning range from 70 MHz to 6 GHz
Up to 50 MHz RF bandwidth per channel
Integrated, tunable sub-octave Rx pre-select filters from 150 MHz to 6 GHz provides significant reduction of signal interference
Integrated GPSDO for precise clock synchronization
External 10 MHz reference + PPS input
Supports 1x1 Tx/Rx operation, both FDD and TDD
Integrated Xilinx® Artix®-7 XC7A50T FPGA with a Gen2 x1 PCIe interface (5 Gbps)
M.2 2280 key B+M form factor (NVMe compatible interface with PCIe)
Typical power consumption: 2.5W
Platform Development Kit (PDK) enables custom software/FPGA development
Sidekiq Stretch is available either as a card that is ready for integration into a host computing device with a compatible M.2 2280 slot, or as a pre-integrated module in a Thunderbolt 3-based platform. Ideal for development or deployment where Thunderbolt 3 is available, this platform combines a Sidekiq Stretch with a PCIe-to-Thunderbolt 3 adapter in a custom machined low-profile aluminum housing measuring just 63.5mm x 136.2mm x 12.7mm. All RF interfaces are exposed via SMA connectors, and both power and PCIe interfaces are provided from a host computer through a single Thunderbolt 3 cable.
"Sidekiq Stretch packs the hardware that would traditionally require three separate cards into a single, modern small form factor radio module," stated John Orlando, CEO at Epiq Solutions. "Our team continues to enable our customers to do more with less, and push the state of the art with low power, highly integrated, flexible radio platforms."
Sidekiq Stretch and the Thunderbolt 3-based platform are available for order now with production units shipping this Quarter. To order or for more information, contact Epiq Solutions by calling (847) 598-0218, emailing sales(at)epiqsolutions(dot)com or visiting https://epiqsolutions.com/contact
About Epiq Solutions
Epiq Solutions is a company committed to developing state-of-the-art software defined radio platforms and sensors that push the limits of small form factor, integration and low power consumption. In addition to radio platform expertise, Epiq Solutions develops innovative integrated RF sensing products and signal processing applications that run on these platforms. For more information regarding Epiq Solutions' products and design services, please visit https://epiqsolutions.com.