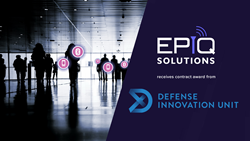 Our participation in the SWiM project provides a unique offering to DIU's users and will complement our existing Flying Fox Enterprise solution.
ROLLING MEADOWS, Ill. (PRWEB) December 14, 2021
Epiq Solutions, a company trusted by federal agencies to provide software-defined radio (SDR) tools for mission-critical RF situational awareness, today announced that they have been awarded a contract by the Defense Innovation Unit (DIU), a U.S. Department of Defense (DoD) organization, to deliver highly innovative RF sensors and processing in support of the U. S. government's Spectrum and Wireless Monitoring (SWiM) project. This contract enables collaboration with DIU to create a solution that the U.S. Government can ultimately use to defend against threats posed by wireless devices. Epiq Solutions plans to leverage its substantial experience developing and deploying its Flying Fox® Enterprise product, a proven wireless device detection and location technology in the creation of the new solution.
DIU is a DoD organization focused exclusively on fielding and scaling commercial technology across the U.S. military to help solve critical problems affecting national security. With this contract award, Epiq Solutions will provide the DoD with a locally-managed commercial off-the-shelf (COTS) sensor network solution powered by Flying Fox Enterprise and delivered on a modular, open, non-proprietary platform. This will allow DoD users to mitigate wireless threats and comply with federal security policies by monitoring both unintended and deliberately malicious information-bearing RF emanations from wireless devices in a wide variety of sensitive compartmented information facilities (SCIFs).
Flying Fox Enterprise is ideally suited to be the engine for the DIU SWiM project. It is the only product of its kind to have passed accreditation testing and be listed on the DoDIN Approved Product List (APL). It originated in a government-off-the-shelf (GOTS) - COTS program with the Naval Research Lab (NRL) and previous versions have been used for years by federal agencies to provide 24/7 detection and location of wireless devices. Flying Fox Enterprise's innovative technology allows full visibility of wireless device activity across the commercial wireless spectrum.
"We are honored to have been selected by the DIU to help protect the Department of Defense from national security threats in their secure spaces," said John Orlando, Epiq Solutions' co-founder and CEO. "Our participation in the SWiM project provides a unique offering to DIU's users and will complement our existing Flying Fox Enterprise solution, bringing sensor network innovation to a range of government customers."
Together, Epiq Solutions' extensive experience with RF sensor technology and the Flying Fox Enterprise product will allow the DIU SWiM project to achieve its goals of deploying high-availability, globally-deployed, locally-managed/maintained hybrid COTS/government off-the-shelf (GOTS) RF sensing solution for 24/7 use to meet federal security needs.
About the Defense Innovation Unit
The Defense Innovation Unit (DIU) accelerates the adoption of commercial technology throughout the military and grows the national security innovation base. DIU partners with organizations across the Department of Defense (DoD), to rapidly prototype, field and scale advanced commercial solutions that address national security challenges. Learn more at diu.mil.
About Epiq Solutions
Epiq Solutions develops cutting edge RF tools that provide situational awareness and detailed insight into RF environments to identify and take action against wireless threats. With more than a decade serving government-focused industries, and more than 15,000 SDRs fielded, Epiq Solutions understands speed, cost, and performance for defense and security applications. Our radically small, state-of-the-art SDR transceiver modules and turnkey RF sensing tools lead the way in minimizing size, weight, and power consumption. Whether the need is to develop mission-critical defense communications for the battlefield or to protect sensitive information in secure areas, Epiq Solutions is the trusted RF solution provider. For more information regarding Epiq Solutions' products and services, please visit epiqsolutions.com.
Contact Information
sales@epiqsolutions.com
847.598.0218