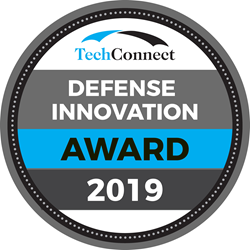 A customized Sidekiq Z2 module will simultaneously operate as an AI-enabled, RF sensing solution for edge computing and wireless communications
SCHAUMBURG, Ill. (PRWEB) September 27, 2019
Epiq Solutions, an engineering firm specializing in advanced wireless transceiver solutions, is proud to announce its selection as a 2019 TechConnect Defense Innovation Awardee. Epiq's submitted proposal for a software defined radio (SDR) with simultaneous RF sensing, edge computing, and communications capabilities placed in the top 15% of technologies submitted to Defense TechConnect Selection Committee based on the potential positive impact it will have on the warfighter and national security.
Epiq Solutions' winning submission to the Committee included at its core the popular Sidekiq™ Z2, a highly flexible, low-SWaP SDR transceiver. A customized Sidekiq Z2 module will simultaneously operate as an AI-enabled, RF sensing solution for edge computing and wireless communications that can be deployed anywhere where small size and high flexibility matter. Mission-critical applications for this powerful yet tiny SDR include: intelligence, surveillance, and reconnaissance (ISR); AI-enabled signal analysis; EM spectrum monitoring and detection; Internet of Battlefield Things (IoBT); edge computing; and MANETs, among others. The numerous proven innovations built into this solution benefit warfighters and improve security by allowing on-the-fly mission-dictated switching between applications and functions, either autonomously or by a soldier, all while utilizing a standard military battery able to operate for over 40 hours. Similar to the other Sidekiq products, the use of this SDR-based module ensures agencies and system developers can quickly acquire and incorporate new radio technology as it emerges without the time delays and re-manufacturing/re-engineering costs that typically come with hardware-based systems.
"Recognizing the ever-increasing challenges our warfighters face today, the team at Epiq is dedicated to providing the best systems and solutions to help them successfully accomplish their missions," stated Bill Sims, Epiq Solutions' Director of Government Operations, and 22 year Army veteran. "We are excited to see our innovations in increased spectrum efficiency, flexibility, and adaptability satisfy multiple operational requirements in the electromagnetic spectrum."
An Epiq Solutions' representative will present a short session on this technology during the Innovation Challenge at the Defense TechConnect Summit & Expo, October 8th at 1:05 p.m., in the Baltimore 1 Room at the Gaylord National Hotel and Convention Center, National Harbor, Maryland. To hear more details on Epiq's award-winning technology, ask questions about your specialized high-performance RF needs, or arrange a meeting, please contact sales@epiqsolutions.com or call (847) 598-0218. Going to the show? Stop by Booth 131 to see Epiq's technology in action.
About Epiq Solutions
Epiq Solutions is a company committed to developing state-of-the-art software defined radio platforms and sensors that push the limits of small form factor, integration and low power consumption. In addition to radio platform expertise, Epiq Solutions develops innovative integrated RF sensing products and signal processing applications that run on these platforms. For more information regarding Epiq Solutions' products and design services, please visit https://epiqsolutions.com.