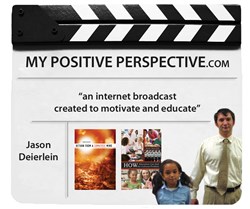 The number of views my episodes has was around 12,000 views last year. This year we are over 752,000.
Charleston, SC (PRWEB) December 31, 2013
On December 31, 2013, My Positive Perspective broadcasted their last episode of 2013. My Positive Perspective host Jason Deierlein called 2013 a year of positives and negatives. Deierlein began the episode by dedicating the episode to the memory of his cousin who was killed by a wreckless driver earlier in 2013. Deierlein said, "Whenever you are driving a car, always realize you have the potential to end a life, and you will cause a life time of misery for that family. Remember to slow down and obey traffic signals, it's not worth killing somebody else." Deierlein notes, "I do my best to always be positive, but tragedy does happen and I am certainly not exempt from that."
Deierlein took time to happily mention the swift increase in the number of episode views he has gotten. During the episode Deierlein notes, "This time last year my total views were around 12,000. The total combined views now number over 752,000. That is a monumental increase and I hope local businesses take advantage of this increase by sponsoring some My Positive Perspective episodes."
Deierlein takes the opportunity to mention the addition of Philicia Baugh and the Baugh Agency who will be working with businesses that choose to take advantage of the sponsorship opportunities. Deierlein says, "Philicia was able to create a wonderful power point presentation that highlights the exposure My Positive Perspective creates and the worthy causes that we cover."
Deierlein also mentions 2014 and some of the upcoming episodes. Deierlein says, "The first event in 2014 is the Shuck A Rama event that benefits brain injury research." The large number of people who are living with a brain injury is concerning and My Positive Perspective wants to help these people."
My Positive Perspective is a media outlet believing that improvement in our community will be best achieved by focusing on the good things happening in our world today. Having survived a near fatal car accident as a youth, a shift of perception forced one to have a mentality of always concentrating on the brighter sides of things. This was true, and in my book, Return From a Comatose Mind, this belief was put to the test. Appreciation for life was the biggest thing one took away from my brush with death, and it is because of that gives me such a huge desire to be helpful to many. My Positive Perspective is a way of overcoming challenges through positive thinking.