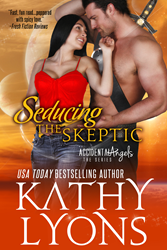 They've one chance to save both worlds...if they sacrifice everything...
Shrewsbury, Pennsylvania (PRWEB) December 01, 2015
ePublishing Works! announces Seducing the Skeptic by Kathy Lyons, available in paperback (978-1-61417-781-4, 296 pages, $17.99 USD) and eBook format (978-1-61417-780-7, $3.99 USD).
Genre: Romance, Fantasy; Romance, Science Fiction
The Story:
Desperate to save her fellowship, theoretical physicist Janet Mason has 48 hours to build a better thesis when she tumbles into a strange fantasy world with demented birds, farmers shaped like frogs, and one hot, frustrating prince.
Cornered by angry beasts, Prince Keeven is moments away from death when Janet's sudden appearance creates a much-needed distraction. Finally, the gods have smiled upon his quest and sent an angel to fight by his side.
Janet is convinced she's gone insane. But the more time she spends fighting evil with the fascinating Prince, the faster she falls in love with madness.
Then Janet finds a way back, just as Keeven faces his worst enemy. They have one chance to save both worlds, but only if they sacrifice everything they've ever wanted.
Read an excerpt from the book by clicking here.
From Kathy Lyons:
"I was at a point in life where I needed to write something fun! When I was young, I pretended my closet was a doorway to another world where I could have adventures, defeat evil witches, and meet my handsome prince! So when I grew up, I wrote a book just for me -- I penned Janet's story. My heroine walks through a closet into a world where nothing is what it seems including her handsome prince. Janet has adventures, defeats evil monsters, and yes, even gets the hot guy in the end. Fantasy fulfilled!"
Meet Kathy Lyons:
Kathy Lyons is the fun, contemporary side of USA Today Bestselling author Jade Lee. Making herself at home in Champaign, Illinois, she loves sassy romance with lots of laughter and sex. Purchase this and other titles from Kathy Lyons by clicking here.
Seducing the Skeptic is available through online retailers, booksellers, subscription services and public libraries everywhere.
Wholesale buyers may order through Ingram or Baker & Taylor with return privilege.
About ePublishing Works:
ePublishing Works! is a next generation digital print, audio and ebook publisher for career-minded authors who want to focus on their passion: writing great stories. From digital file preparation, cover design, sales copy, promotion and distribution, to royalty payment, ePublishing Works takes care of business while authors enjoy the freedom to write. For more information and submission guidelines visit us at http://www.epublishingworks.com or click here to request information.