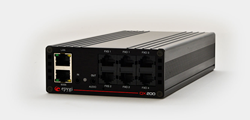 License keys enable the Epygi QX phone systems to unlock certain features. No additional hardware is required...
Milwaukee, WI (PRWEB) December 29, 2014
Epygi Technologies recently announced the new QX series. The QX series phone systems and gateways are now available at IP Phone Warehouse. Epygi's QX50, QX200 and QX2000 phone systems are scalable VoIP PBX solutions with licenses available to support everything from video conferencing to call recording.
Set up the Epygi QX50 in an office of 50 employees, featuring the capacity for 16 concurrent calls. The Epygi QX200 is ready for 200 total endpoints, with support for 64 concurrent calls. Connect up to 2,000 phones to the higher capacity Epygi QX2000 and provide support for up to 300 concurrent calls.
Available licensing options for all three models:

Barge-in
Call recording
Desktop communication console
Audio conferencing bridge
Video conferencing bridge
VoIP phone extensions
And more
License keys enable the Epygi QX phone systems to unlock certain features. No additional hardware is required, although the appliances do offer SD card slots for expanding storage space as necessary.
Use the Epygi QX50 and QX200 phone systems with VoIP phones, analog phones, SIP trunking and PSTN lines. These models features FXO and FXS ports, dual Ethernet ports, and audio line-in and line-out ports for external sound equipment.
These Epygi phone systems support SIP, T.38 fax and other telephony standards. Unlock the video conferencing bridge to take advantage of low bandwidth, high quality H.264 video compression technology.
IP Phone Warehouse carries a full line of Epygi phone systems and VoIP telephony solutions. Visit IP Phone Warehouse online or contact customer service by email: service(at)ipphone-warehouse(dot)com or phone: (888) 201-9056 to learn more about Epygi and VoIP telecommunications.
About IP Phone Warehouse
IP Phone Warehouse is the leading specialty reseller of VoIP phones, video conferencing equipment, IP cameras and network devices. We're stocked with everything that small businesses and enterprises need to deploy reliable VoIP and video solutions. A dedicated customer service team and a wide range of available online resources support every product at IP Phone Warehouse.