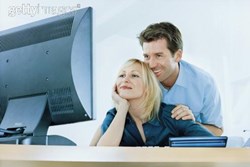 With three quarters of consumers using the web to purchase goods, online shoppers have become the ideal target for fraudsters.
(PRWEB UK) 5 February 2014
The internet could be the ideal place to find the perfect secret gift for Valentine's Day. But leading online credit information provider, Equifax, is urging those wishing to send a Valentine's gift to stay vigilant of the risks of fraudsters 'phishing' for personal details online.
"With three quarters of consumers using the web to purchase goods*, online shoppers have become the ideal target for fraudsters," explained Neil Munroe, External Affairs Director, Equifax. "The ways in which online fraudsters work have become highly sophisticated, making it hard for consumers to spot potential scams and that's why we believe there's a real risk that someone trying to make a purchase for their Valentine could be a perfect target.
"Our research last year* revealed that nearly 40% of consumers would be happy to part with their personal information for a good deal or online discount. We are, therefore, strongly advising that anyone tempted by a special offer or deal double checks that the website is legitimate before they proceed with entering their personal data."
Equifax believes Valentine's gift shoppers should also be wary of any emails that ask for credit or bank card details, supposedly for purchases that haven't been processed. These could well be 'phishing' scams.
"With a stolen identity, fraudsters can effectively become you – taking money, setting up bank and other financial accounts, even taking out a mobile phone in your name," continued Neil Munroe. "Yet only 35% of online shoppers* consider themselves to be most at risk from identity fraud when trawling the internet."
Although it's impossible to be protected from every single scam, Equifax has provided some tips to help prevent individuals becoming victims to ID fraud.
Equifax also urges consumers to regularly monitor their credit report for any changes to accounts or spending they didn't authorise, and to protect their personal information online with Equifax WebDetect. The 24/7 ID monitoring solution keeps consumers one step ahead of fraudsters by alerting them to potential unauthorised trading of their personal information.
WebDetect is free for customers purchasing their Equifax Credit Report or Credit Score.
The Equifax Credit Report is accessible for 30 days free simply by logging onto our website. If customers do not cancel before the end of the 30 Day Free Trial, the service will continue at £9.95 per month, giving them unlimited online access to their credit information and weekly alerts on any changes to their credit file.
Equifax Tips to Protect Against Phishing Emails and ID Fraud
Do not respond to emails and phone calls asking for your bank, credit card or other personal details such as PINs or passwords. Genuine companies will never ask you to provide or confirm your password or PIN.

Make sure you have the latest virus protection that ideally updates hourly and provides your computer with a 'Firewall'
Make sure you log out of all online banking, social networking sites and online shopping accounts rather than just closing the window, especially when you are using a public computer
Never store PINS or passwords on mobiles or smartphones
Regularly check credit card and bank statements for unauthorised transactions
Regularly check your credit file for any unauthorised applications for credit or new credit accounts
February 2014
*Equifax Identity Fraud Survey, conducted amongst 928 Equifax Personal Solutions customers, September 2013
About Equifax
Equifax is a global leader in consumer, commercial and workforce information solutions, providing businesses of all sizes and consumers with information they can trust. We organize and assimilate data on more than 500 million consumers and 81 million businesses worldwide, and use advanced analytics and proprietary technology to create and deliver customized insights that enrich both the performance of businesses and the lives of consumers.