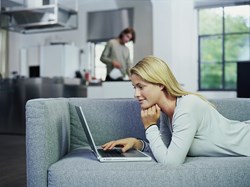 30% of consumers who responded to our survey said they have a 'spend now, pay later' attitude
(PRWEB UK) 3 December 2013
The latest research* from Equifax, the online credit information provider, has revealed that there appears to be a more cautious approach to paying for Christmas this year, with 45% of consumers saying they plan to use cash to pay for their festive shopping this year. Plus, nearly half (49%) have said they will not be using a credit card for seasonal purchases.
The excitement of the bright lights may, however, lead some consumers into a New Year financial hangover, as Neil Munroe, External Affairs Director at Equifax explained. "When it comes to Christmas spending, 30% of consumers who responded to our survey said they have a 'spend now, pay later' attitude. This could lead to future difficulties if they don't have the means to pay off those debts. But with 45% of respondents saying they will only use cash and savings, there does seem to be a sense of financial prudence around Christmas 2013.
"However, what we were surprised by was the very low number of consumers who would be using their credit cards to get loyalty points or cash back in the New Year. Just 5% said they will use credit cards to benefit from cash back offers. For consumers who have the funds to pay off their bill each month this seems like a missed opportunity."
In the poll of 873 consumers who have accessed their Equifax credit report, 49% say they will be spending the same as last year, whilst nearly a third (29%) are cutting back their budget, compared to Christmas 2012. For 23%, their total Christmas spend is likely to be £301 to £500 and 19% splash up to £750 on the festivities.
Worryingly, 6% are still paying off debts from last Christmas, with a third taking up to six months to pay off their seasonal spending.
"The most important thing is that people should always take stock of their finances before Christmas to ensure they spend within their means", concluded Neil Munroe. "It's encouraging to see that over 90% keep track of their spending by keeping a running total, adding up their receipts or checking their bank statement.
"However, some consumers are missing a trick, if they have the funds to repay their credit card every month, but don't make the most of the best cashback offers available."
The Equifax Credit Report is accessible for 30 days free simply by logging onto our website. If customers do not cancel before the end of the 30 Day Free Trial, the service will continue at £9.95 per month, giving them unlimited online access to their credit information and weekly alerts on any changes to their credit file. It also includes an online dispute facility to help them correct any errors on their credit file simply and quickly.
*Equifax Christmas Spending Survey - November 2013
About Equifax
Equifax is a global leader in consumer, commercial and workforce information solutions that provide businesses of all sizes and consumers with insight and information they can trust. Equifax organizes and assimilates data on more than 600 million consumers and 81 million businesses worldwide. The company's significant investments in differentiated data, its expertise in advanced analytics to explore and develop new multi-source data solutions, and its leading-edge proprietary technology enable it to create and deliver unparalleled customised insights that enrich both the performance of businesses and the lives of consumers.