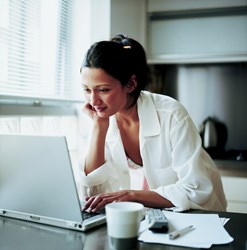 (PRWEB UK) 3 September 2013
The 16th September 2013 will mark the start of the new UK Current Account Switch Service, designed to make it easier for individuals to change their bank account ensuring all their financial information switches over smoothly. Equifax, is therefore urging consumers to get a copy of their credit file before they make the switch to check that their financial information is up to date in order to secure the current account they want.
"When assessing an application for a current account banks will normally conduct a search for identity and anti-money laundering purposes, as well as make checks with credit reference agencies to see whether an applicant has kept up to date on repaying their credit," comments Neil Munroe, External Affairs Director at Equifax. "This is because many current accounts offer credit facilities, such as a credit card or overdraft. It is therefore important that an individual checks their credit report before switching accounts so they can ensure all of their information is correct and up to date at the time of application.
"The bank will also use a "credit scoring" system to decide whether or not to offer the applicant the current account facility they have applied for. If an individual does not get the current account they applied for, they should ask the bank the reasons why, especially if they know there is nothing wrong with their credit history, " concludes Neil Munroe.
The Equifax Credit Report is accessible for 30 days free simply by logging onto http://www.equifax.co.uk. If customers do not cancel before the end of the 30 Day Free Trial, the service will continue at £9.95 per month, giving them unlimited online access to their credit information and weekly alerts on any changes to their credit file. It also includes an online dispute facility to help them correct any errors on their credit file simply and quickly.
Equifax offers the below tips for individuals to improve their credit score before switching their bank account.
Top Tips to Improve Your Credit Score
1. Are you Registered?
The electoral roll is used by many companies for identity verification purposes in order to combat identity fraud. It is vital, therefore, that you are registered on the electoral roll at your current address. And if you believe the address is not properly presented, you can ask the credit reference agency to take this up with the lenders and the local authorities.
2. Change of Circumstances
If your circumstances have changed and you have had difficulties keeping up with credit payments, then it's important to say so, for example if you were made redundant or recently divorced and have fallen behind on credit repayments. You can place a Notice of Correction on your credit file explaining the background to any missed payments, especially if you have now got back up to date. A lender will review this when assessing any credit applications you make.
If you believe a lender/company has provided incorrect information on your credit file, you can raise a Notice of Dispute with the Credit Reference Agency and they will take this up with the lender. This will usually be resolved within 28 days.
3. County Court Judgments (CCJs)
If you've had a CCJ and it is now settled make sure the settlement is recorded on your credit file. If not contact the court to get confirmation details and inform the credit reference agencies.
4. Stop Applying
If you have been refused a current account or credit, obtain a copy of your credit report. But DO NOT carry on applying elsewhere. Each credit application search by a lender will leave a "footprint" on your credit file.
About Equifax
Equifax is a global leader in consumer, commercial and workforce information solutions, providing businesses of all sizes and consumers with information they can trust. We organize and assimilate data on more than 500 million consumers and 81 million businesses worldwide, and use advanced analytics and proprietary technology to create and deliver customized insights that enrich both the performance of businesses and the lives of consumers.