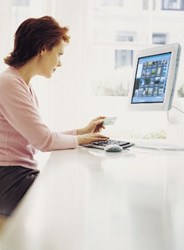 Our research, conducted last Autumn, revealed that 1 in 10 consumers don't have passwords on any of their mobile devices.
(PRWEB UK) 13 January 2014
Today sees the launch of the Government's Cyber Streetwise campaign which aims to make UK consumers more savvy to online crime. Leading ID fraud expert, Equifax, welcomes the campaign. "We support any initiatives that focus on making individuals feel safe online," said Neil Munroe, External Affairs Director for Equifax. "Indeed, we believe that whilst there is certainly increased awareness amongst consumers about the risks of fraud online, there's still considerable naivety when it comes to protecting personal information, especially in relation to the myriad of mobile devices that are now so much part of everyone's daily lives.
"Our research, conducted last Autumn, revealed that 1 in 10 consumers don't have passwords on any of their mobile devices – a real cause for concern considering how much personal data is now held on smartphones and iPads. In addition, nearly half (47%) of those we surveyed 'sometimes' or regularly tick 'remember me' when logging in to their online bank or other websites which is like an open door for opportunistic fraudsters."
Fraudsters trawl cyber-space for the identities of real people, enabling them to access existing bank and credit card accounts as well as set up new accounts in victims' names. It has been estimated that it can only takes three pieces of information to steal someone's identity, so it's easy to see how simple it is for the fraudsters. And with online shopping now such an integral part of UK consumer activity, there's more opportunity than ever for fraudsters to take advantage, with many victims not realising they've been targeted until their credit card bills or bank statements arrive.
Launched on 13th January 2014, Cyberstreetwise.com is an online portal designed to give consumers and SMEs clear guidance on staying safe online. The initiative aims to help consumers and businesses avoid significant financial losses, from cybercrime, estimated to be in the region of £86 million.
"It's clear that the latest devices and access to the internet make everyday tasks easier, but it's also clear that criminals are taking advantage of individuals and organisations that don't take the best care of their online security," concluded Neil Munroe. "We advise consumers to stay vigilant to ensure they are one step of fraudsters. Being vigilant about the websites used is important, but we also recommend that shoppers use the Equifax WebDetect service to help them keep track of their information by monitoring its use across the internet."
Equifax's WebDetect service offers an added layer of security against fraudsters who may be trawling the net for personal information. Using the latest cutting edge technology to search places where criminals trade including networks, chat rooms and websites worldwide, Equifax WebDetect enables the detection of stolen identity credentials, finding consumer data regardless of nationality or location.
Consumers can ask Equifax WebDetect to monitor up to six personal telephone numbers and addresses, twelve bank and credit account numbers and their national insurance number for the ultimate in protection. Once compromised data has been identified, WebDetect alerts the individual, giving them a crucial opportunity to take proactive steps to protect their identity such as cancelling bank cards and credit card accounts.
The Equifax Credit Report is accessible for 30 days free simply by logging onto http://www.equifax.co.uk. If customers do not cancel before the end of the 30 Day Free Trial, the service will continue at £9.95 per month, giving them unlimited online access to their credit information and weekly alerts on any changes to their credit file. It also includes an online dispute facility to help them correct any errors on their credit file simply and quickly.
*Equifax Identity Fraud Survey, conducted amongst 928 Equifax Personal Solutions customers, September 2013
About Equifax
Equifax is a global leader in consumer, commercial and workforce information solutions that provide businesses of all sizes and consumers with insight and information they can trust. Equifax organizes and assimilates data on more than 600 million consumers and 81 million businesses worldwide. The company's significant investments in differentiated data, its expertise in advanced analytics to explore and develop new multi-source data solutions, and its leading-edge proprietary technology enable it to create and deliver unparalleled customized insights that enrich both the performance of businesses and the lives of consumers.