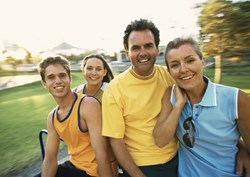 With so many financial pressures on young people today it is understandable that parents want to help out in any way they can
London, UK (PRWEB UK) 25 September 2013
• 90% of parents have or are prepared to help their children in some way with their finances

38% of parents believe their children are cautious spenders
Over a quarter (26%) described their offspring as being 'easily influenced spenders'
Over 30% of parents admitted to not understanding the implications of a joint financial agreement with their child or children
25% of parents have acted as a guarantor for a child's financial commitments
The latest research* from Equifax, the leading online credit information provider, reveals that over 90% of parents have or are prepared to help their children in some way with their finances. And it appears from the Equifax research that a lack of financial support from their own parents could be the motivation for today's parents helping their offspring. 37% of parents of 18-24 year olds who responded to the Equifax commissioned research said they rarely or never received financial support from their parents and 4 in 10 parents do not want their children to struggle financially like they did.
"With so many financial pressures on young people today it is understandable that parents want to help out in any way they can," said Neil Munroe, External Affairs Director, Equifax. "And it's encouraging to see, according to our research, that parents seem to be driven to educate their children financially. Nearly half of those who give their children money said they make the terms of repayment very clear."
Ahead of the start of the new university year, the Equifax research also set out to discover just how financially savvy the younger generation are – according to their parents. Encouragingly 38% of parents thought their children were cautious spenders, although over a quarter (26%) described their offspring as being 'easily influenced spenders' and 15% considered their children to be 'reckless spenders'. Perhaps not surprisingly, the concept of saving isn't particularly well adopted by the younger generation with just 14% of parents describing their child or children as savvy savers.
But it's not just the younger generation that appear to need to understand more about managing their finances. The Equifax research also identified that some parents don't understand the potential effect that helping out their children financially could have on their own finances.
"Over 30% of parents admitted to not understanding the implications of a joint financial agreement with their child or children, particularly in relation to how it could affect their own credit status," continued Neil Munroe. "This is quite worrying, considering that over 25% of parents who responded to our survey said that they have acted as a guarantor for a child's financial commitments and nearly 40% have taken out a mobile phone contract on behalf of their child.
"Parents can stay on top of their own finances by getting a copy of their credit report which provides a comprehensive insight into their financial status and current credit agreements," concludes Neil Munroe. "Once parents are aware of their own financial situation, they will be able to fully understand the full extent that they can help their children and also teach them how to stay on top of their own finances."
The Equifax Credit Report is accessible for 30 days free simply by logging onto our website. If customers do not cancel before the end of the 30 Day Free Trial, the service will continue at £9.95 per month, giving them unlimited online access to their credit information and weekly alerts on any changes to their credit file. It also includes an online dispute facility to help them correct any errors on their credit file simply and quickly.
Which of the below have you helped your child/children with financially?
Choice %
University fees 24%
A deposit for their first home 11%
Rent payments 27%
Utility bills (e.g. gas, electricity, water) 18%
Buying a car 28%
Car insurance 25%
A holiday/travelling 31%
Mobile phone contract 37%
Going out with friends 33%
*Equifax Vital Survey- September 2012- 878 respondents all with children aged 18-24
About Equifax
Equifax is a global leader in consumer, commercial and workforce information solutions, providing businesses of all sizes and consumers with information they can trust. We organize and assimilate data on more than 500 million consumers and 81 million businesses worldwide, and use advanced analytics and proprietary technology to create and deliver customized insights that enrich both the performance of businesses and the lives of consumers.