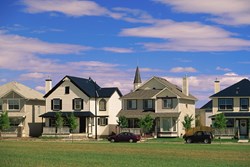 Something as simple as post left lying around in empty properties can be tempting for fraudsters
(PRWEB UK) 17 September 2013
Leading ID fraud expert, Equifax, is urging people renting out their property, to be aware of the potential risks to their own identity as part of the process. Neil Munroe, External Affairs & Communications Director, Equifax, believes that private landlords could be vulnerable to identity theft as they are less able to monitor activity at their property.
"Letting a property can sometimes be a stressful process. It's important, therefore, to ensure it's not made any more stressful by making it easy for someone to steal a landlord's identity. Small things such as making sure any mail is redirected to where they will be living can make a big difference. Stopping telephone and internet services that might be property specific – such as wifi – and changing passwords that might relate to the property are also important steps. And even something as simple as post left lying around in empty properties can be tempting for fraudsters."
It has been proven that it can take as little as just three pieces of personal information to be able to obtain money or goods in someone else's name, which is why Equifax is urging private landlords to be vigilant when letting someone move into their property
"Landlords are likely to give their telephone number and address details to lots of different people when they are renting their property. So they need to be particularly vigilant to ensure this valuable information does not get into the wrong hands," continued Neil Munroe.
Equifax also encourages landlords to get a copy of their credit report in order to identify any unauthorised activity quickly. Plus the Equifax credit report monitoring service will also provide alerts about any unauthorised applications for credit – particularly important when landlords might be concentrating on other matters.
The Equifax Credit Report is accessible for 30 days free simply by logging onto our website. If customers do not cancel before the end of the 30 Day Free Trial, the service will continue at £9.95 per month, giving them unlimited online access to their credit information and weekly alerts on any changes to their credit file. It also includes an online dispute facility to help them correct any errors on their credit file simply and quickly.
About Equifax
Equifax is a global leader in consumer, commercial and workforce information solutions, providing businesses of all sizes and consumers with information they can trust. We organize and assimilate data on more than 500 million consumers and 81 million businesses worldwide, and use advanced analytics and proprietary technology to create and deliver customized insights that enrich both the performance of businesses and the lives of consumers.