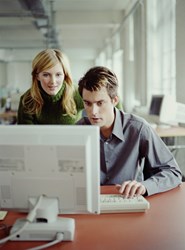 It can take as little as three pieces of personal information to steal someone's identity
(PRWEB UK) 17 December 2013
The discovery of a global identity scam, which has made over two-million* consumer's online passwords accessible to potential fraudsters, has prompted Equifax, the leading ID fraud expert, to urge consumers to be more alert to the risks of online identity fraud. Equifax believes consumers need to heighten personal security measures, or risk leaving themselves at the mercy of online fraudsters.
More than two-million passwords, belonging to users of popular websites such as Facebook, Twitter, Google and Yahoo!, were among a host of personal information found on a criminally controlled web server by Trustwave security researchers earlier this month. As well as the risk this presents to people's social media accounts being infiltrated by fraudsters, the data could also provide vital clues to enable fraudsters to steal people's identities.
"It can take as little as three pieces of personal information to steal someone's identity", explained Neil Munroe, External Affairs Director, Equifax. "So this latest scam highlights, once again, the risks of putting too much information online. "Unfortunately, there isn't a way to completely protect oneself against ever-more sophisticated online identity scams. Even the very latest in anti-virus and anti-spyware is no guarantee of safety. So wising-up to the dangers and limiting the amount of personal information given on websites is critical."
According to experts, passwords and other personal information are stolen by what is known as malware attacks and then subsequently posted online where they can be accessed by fraudsters. Web users may click on a link, download a file, or visit a suspicious website that unwittingly infects their computer with malware. Once installed, and without the user's knowledge, the malware can see whatever is typed on the computer – including passwords to social media and financial accounts.
"The knock-on effects of having your personal information stolen by fraudsters could be very costly," continued Neil Munroe. "As well as using the information to access your bank accounts and savings or applying for loans or credit cards in your name fraudsters may also be able to target friends and loved ones via social media channels – such as Facebook and Twitter."
Equifax provides some basic tips to help consumers protect themselves from online scams. It also urges anyone who is concerned they may be vulnerable to identity fraud to regularly monitor their credit report. Plus Equifax's WebDetect service offers an added layer of security against fraudsters who may be trawling the net for personal information. Using the latest cutting edge technology to search places where criminals trade including networks, chat rooms and websites worldwide, Equifax WebDetect enables the detection of stolen identity credentials, finding consumer data regardless of nationality or location.
Consumers can ask Equifax WebDetect to monitor up to six personal telephone numbers and addresses, twelve bank and credit account numbers and their national insurance number for the ultimate in protection. Once compromised data has been identified, WebDetect alerts the individual, giving them a crucial opportunity to take proactive steps to protect their identity such as cancelling bank cards and credit card accounts.
WebDetect is free for customers purchasing their Equifax Credit Report or Credit Score.
The Equifax Credit Report is accessible for 30 days free simply by logging onto our website. If customers do not cancel before the end of the 30 Day Free Trial, the service will continue at £9.95 per month, giving them unlimited online access to their credit information and weekly alerts on any changes to their credit file. It also includes an online dispute facility to help them correct any errors on their credit file simply and quickly.
EQUIFAX TIPS TO PROTECT AGAINST ID FRAUD

Regularly apply for a copy of your credit file to look out for any unauthorised activity
Always check bank statements and credit card statements carefully against receipts
When using online banking, or making financial transactions, ensure people can't view your details
Log out of websites, rather than just closing the window
No matter how much you trust your friends, work colleagues, NEVER give out your PIN or online passwords
Never store your PIN on mobile phones, blackberrys, tablets or laptops
Don't include common verification information such as your date of birth or your mother's maiden name on social networking sites
Set up privacy on your social media profile so that only close friends can view your information
Make sure your computer has the latest virus protection that ideally updates hourly
If you think you have become a victim of fraud, alert your bank and credit card providers immediately.
You can call Action Fraud for advice and support on 0300 123 2040 or visit their website
*Source: Market Watch http://www.marketwatch.com/story/almost-two-million-account-passwords-stolen-and-posted-online-2013-12-05?reflink=MW_news_stmp
About Equifax
Equifax is a global leader in consumer, commercial and workforce information solutions, providing businesses of all sizes and consumers with information they can trust. We organize and assimilate data on more than 500 million consumers and 81 million businesses worldwide, and use advanced analytics and proprietary technology to create and