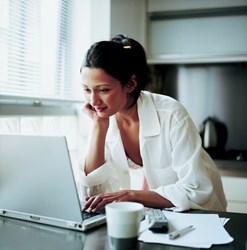 A third of credit active consumers are now considering moving their current account.
(PRWEB UK) 3 October 2013
Two weeks on from the launch of the new 7 day bank account switching service, leading online credit information provider, Equifax, has found that a third of credit active consumers are now considering moving their current account. But, with two thirds saying they are not tempted by the new guarantees of a prompt and efficient switching service, there appears to be a strong sense of loyalty to an individual's bank account.
"67% of Equifax Personal Solutions customers who responded to our survey, which was conducted a week after the new switching service had been launched, said they aren't tempted to switch bank account despite the 7 day promise," explained Neil Munroe, External Affairs Director for Equifax. "And the encouraging news for the banks is that 82% of these respondents said it was because they are happy with the service from their current provider. There appears to be a real sense of loyalty to a person's bank.
There also seems to be a strong sense of loyalty when it comes to changing mobile phone provider. Just over 1 in 10 of respondents had changed provider in the last 6 months but 1 in 5 haven't changed provider in the last five years.
Of the credit active consumers surveyed by Equifax who said they were now considering changing bank, nearly a quarter (24%) were tempted by the cash back offers currently being promoted.
Over half (52%) said they would probably switch because they thought they could get a better overall deal for their bank account and 17% said they would switch because they're dissatisfied with their current service.
"Our research suggests that many consumers are still happy to stay with their current bank," added Neil Munroe. "But for those who are tempted to switch, it's important that they realise their credit report is likely to be reviewed as part of the process. It's therefore worth getting a copy of their credit file before they make the move."
The Equifax Credit Report is accessible for 30 days free simply by logging onto onto our website. If customers do not cancel before the end of the 30 Day Free Trial, the service will continue at £9.95 per month, giving them unlimited online access to their credit information and weekly alerts on any changes to their credit file. It also includes an online dispute facility to help them correct any errors on their credit file simply and quickly.
*Equifax surveyed 703 Personal Solutions customers w/c 23/9/13.
About Equifax
Equifax is a global leader in consumer, commercial and workforce information solutions, providing businesses of all sizes and consumers with information they can trust. We organize and assimilate data on more than 500 million consumers and 81 million businesses worldwide, and use advanced analytics and proprietary technology to create and deliver customized insights that enrich both the performance of businesses and the lives of consumers.