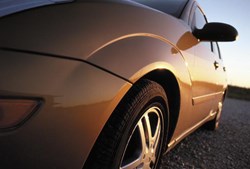 Anyone planning to buy a new car on finance should check their credit history before they start browsing the showrooms.
(PRWEB UK) 7 February 2014
New car sales rose by over 10% in 2013, compared to the year before* and experts believe access to great deals on finance was a crucial contributor. With January continuing the trend, with a 7.6% rise in new car sales, Equifax, the consumer credit information expert, is emphasising that car buyers still need a good credit history to be able to make the most of the great deals available. The company is advising anyone looking for a loan to finance their new car to ensure their credit history is in the best possible shape.
"There are a number of attractive finance packages available at the moment and it is expected that even more people will invest in a new car this year," says Neil Munroe, External Affairs Director at Equifax. "However, only individuals with the best credit history will stand the best chance of securing the most affordable deals.
"Anyone planning to buy a new car on finance should check their credit history before they start browsing the showrooms so that they have the best chance of getting the loan they want. Lenders want to see that an applicant has kept up repayments on past and current agreements.
"We advise anyone applying for new credit – whether it's to buy a home, a car or just for a new credit card - to obtain a copy of their credit report, which allows them to see what the lender sees. Doing this before applying for finance means you can take steps to improve your credit status. This puts consumers in control of their finances, allowing them to make changes and improve their chances of securing an affordable deal."
Equifax's Check List to Improve Your Credit Status for New Credit Deals

Are you on the Electoral Roll? Lenders use this to verify your ID and combat fraud.
Are your bills paid? Missed payments may make lenders think you're already struggling with debt.
Do you pay the minimum? Try to pay more than just the monthly minimum on credit agreements. This demonstrates your ability to repay debts.
Been refused credit? Stop applying for credit elsewhere. Each application logs a search on your credit file. Too many could appear as if you already have too many commitments.
Have you reviewed your credit report? Look at your credit report, before applying for credit, to get an overview of your finances and see what the lender sees. Then you can take steps to present your finances in the best light.
The Equifax Credit Report is accessible for 30 days free simply by logging onto our website. If customers do not cancel before the end of the 30 Day Free Trial, the service will continue at £9.95 per month, giving them unlimited online access to their credit information and weekly alerts on any changes to their credit file. It also includes an online dispute facility to help them correct any errors on their credit file simply and quickly.
February 2014
*Source Society of Motor Manufacturers (SMMT)
About Equifax
Equifax is a global leader in consumer, commercial and workforce information solutions that provide businesses of all sizes and consumers with insight and information they can trust. Equifax organizes and assimilates data on more than 600 million consumers and 81 million businesses worldwide. The company's significant investments in differentiated data, its expertise in advanced analytics to explore and develop new multi-source data solutions, and its leading-edge proprietary technology enable it to create and deliver unparalleled customized insights that enrich both the performance of businesses and the lives of consumers.