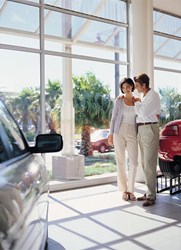 We think it's really worthwhile obtaining a copy of your credit report before you apply for finance
(PRWEB UK) 16 August 2013
The new 63 registration plate will hit the roads on 1st September and Equifax, the online credit information provider, is advising budding car buyers who are looking to take out finance to fund the purchase to make sure their credit status is looking its best.
"To be eligible for one of the many attractive finance deals that are currently available it is essential that you ensure your credit history is in the best possible shape that it can be", explained Neil Munroe, External Affairs Director at Equifax.
Lenders make checks with credit reference agencies to see whether an applicant has kept up to date on repaying their credit. Lenders also use a 'credit scoring' system to decide whether or not to lend to consumers – and in some instances – at what price. Therefore, the better an individual's credit score, the better the rate they may get, helping them take advantage of the best deals.
"We think it's really worthwhile obtaining a copy of your credit report before you apply for finance," concludes Neil Munroe. "That way you can make sure your credit status is looking its best before you make an application. And the better your status, the better your chances of negotiating the best finance deal."
EQUIFAX TOP TIPS TO IMPROVE YOUR CREDIT STATUS BEFORE APPLYING FOR NEW CREDIT DEALS

Ensure you are registered on the Electoral Roll as this is used by companies for identify verification purposes in order to combat fraud.
If possible make more than the minimum payment on credit agreements every month. This will show potential lenders you have the capacity to repay future debts
If you have been refused credit, obtain a copy of your credit report. DO NOT carry on applying elsewhere. Each credit application search by a lender will leave a "footprint" on your credit file. Too many searches in a short space of time can be perceived by lenders as you maybe over-stretching yourself financially and could therefore affect your ability to get new credit.
If your circumstances have changed then say so. You can place a Notice of Correction on your credit file explaining your financial situation. You can place a Notice of Correction on your credit file explaining the background to any missed payments, especially if you have now got back up to date. A lender will review this when assessing any credit applications you make.
Avoid carrying a balance that is more than 30% of your credit limit. Lenders may see this as a potential sign you already have enough borrowings and that you may struggle to meet any new repayments.
Close it down – Make sure any accounts you don't need or use are closed. Lenders are paying more attention to the total amount of credit available to an individual and whilst you may not be using them, these accounts could affect your ability to get credit.
The Equifax Credit Report is accessible for 30 days free simply by logging onto our website. If customers do not cancel before the end of the 30 Day Free Trial, the service will continue at £9.95 per month, giving them unlimited online access to their credit information and weekly alerts on any changes to their credit file. It also includes an online dispute facility to help them correct any errors on their credit file simply and quickly.
About Equifax
Equifax is a global leader in consumer, commercial and workforce information solutions, providing businesses of all sizes and consumers with information they can trust. We organize and assimilate data on more than 500 million consumers and 81 million businesses worldwide, and use advanced analytics and proprietary technology to create and deliver customized insights that enrich both the performance of businesses and the lives of consumers.