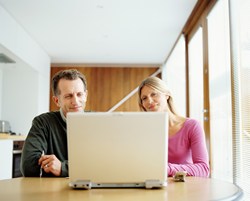 The invisibility of the worldwide web makes it the ideal place for fraudsters to find and trade people's information so it's vital that consumers stay alert to the risk
(PRWEB UK) 8 August 2013
Leading ID fraud and credit information expert, Equifax, is urging consumers to remain 'information vigilant', especially when doing anything online following a report from the Home Affairs Select Committee* that suggests a growth in cybercrime.
"The invisibility of the worldwide web makes it the ideal place for fraudsters to find and trade people's information so it's vital that consumers stay alert to the risk", explained Neil Munroe, External Affairs Director, Equifax.
"Many people would be shocked to know how little information criminals need to be able to steal an identity. And once they have a stolen ID, a fraudster could use that information to attempt to access funds in accounts, set up bank and other financial accounts, or even take out a mobile phone in the innocent victim's name. It can happen without someone even realising, yet it can take many hours to get details corrected.
"We urge consumers to monitor their credit file on a regular basis so that if they do become victim to this invisible crime, quick action can be taken. Checking credit and bank account statements regularly should also be something consumers should be encouraged to do so that they can quickly spot unauthorised transactions. Plus it's vital to be vigilant about information provided online."
Equifax's WebDetect service offers an added layer of security against fraudsters who may be trawling the net for personal information. Using the latest cutting edge technology to search places where criminals trade including networks, chat rooms and websites worldwide, Equifax WebDetect enables the detection of stolen identity credentials, finding consumer data regardless of nationality or location.
Consumers can ask Equifax WebDetect to monitor up to six personal telephone numbers and addresses, six bank card numbers and their national insurance number for the ultimate in protection. Once compromised data has been identified, WebDetect alerts the individual, giving them a crucial opportunity to take proactive steps to protect their identity such as cancelling bank cards and credit card accounts.
"Anyone worried about possibly being vulnerable to ID fraud over the internet can use Equifax WebDetect to receive weekly alerts to ensure their personal details aren't getting into the wrong hands" added Neil Munroe. "Crucially, regularly monitoring your credit report, alongside products like WebDetect, offers a good defense against ID fraudsters."
WebDetect is free for customers purchasing their Equifax Credit Report or Credit Score and costs £1.99 with other Equifax products.
EQUIFAX TIPS TO PROTECT AGAINST ID FRAUD

Regularly apply for a copy of your credit file to look out for any unauthorised activity
Always check bank statements and credit card statements carefully against receipts
When using online banking, or making financial transactions, ensure people can't view your details
Log out of websites, rather than just closing the window
No matter how much you trust your friends, work colleagues, NEVER give out your PIN or online passwords
Never store your PIN on mobile phones, blackberrys, tablets or laptops
Don't include common verification information such as your date of birth or your mother's maiden name on social networking sites
Set up privacy on your social media profile so that only close friends can view your information
Make sure your computer has the latest virus protection that ideally updates hourly
If you think you have become a victim of fraud, alert your bank and credit card providers immediately.
You can call Action Fraud or your financial services provider(s) for advice and support on 0300 123 2040 or visit their website http://www.actionfraud.org.uk
*The original report can be found here http://www.parliament.uk/business/committees/committees-a-z/commons-select/home-affairs-committee/inquiries/parliament-2010/e-crime/
About Equifax
Equifax is a global leader in consumer, commercial and workforce information solutions, providing businesses of all sizes and consumers with information they can trust. We organize and assimilate data on more than 500 million consumers and 81 million businesses worldwide, and use advanced analytics and proprietary technology to create and deliver customized insights that enrich both the performance of businesses and the lives of consumers.