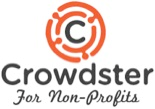 enabling mobile users with a simple, easy-to-use way to make donations
Brookville, NY (PRWEB) January 08, 2016
Crowdster has launched a truly unique mobile donation capability based on ApplePay that enables donors to complete transactions as easy as making purchases on iTunes.
Crowdster, the leading provider of easy-to-use and low cost online fundraising platforms for non-profits, announced that this new feature will provide simple-to-complete donor transactions which, in turn, will make it easier to reach or exceed fundraising goals.
In a quote from the Crowdster CEO, Joe Ferraro, "we are very excited about launching our Apple Pay mobile donation feature given the rapidly accelerating number of transactions - including donations to non-profits - that are being made via mobile devices. Enabling mobile users with a simple, easy-to-use way to make donations fits with our strategy of providing the online fundraising platform that is the easiest to use from both a donor as well as administrator perspective".
The Apple Pay application allows donors to use their smartphone to make donations using ApplePay, wherein the end user simply must confirm the donation amount and use their thumb imprint to complete the transaction. Crowdfunding has become a significant source of capital for non-profit organizations in addition to many for-profit businesses and individuals. Crowdster stands out from the competitors in the non-profit marketplace with an easier to use platform, a long history of providing peer-to-peer campaign capabilities and a deep devotion to customer support with the goal of enabling non-profits to reach\exceed their fundraising goals.
Crowdster offers a unique product offering to non-profit organizations that are looking to raise funds for their causes by leveraging peer-to-peer fundraising. This includes event marketing capabilities, gamification along with social media integrated strategies and robust email marketing capabilities. Crowdster clients have included the Autism Speaks, Major League Baseball (MLB), The Tiger Woods Foundation, Save the Children, Cystic Fibrosis Foundation, The Aga Khan Foundation, Bone Marrow Foundation and others.
About Crowdster:
Crowdster, formerly Karma411, was re-launched in late 2015 with a purposeful focus on the non-profit sector. Crowdster CEO, Joe Ferraro, and his wife run their own 501(c)(3) non-profit organization providing basic needs – food, shelter, clothing, medical care, and education – to orphans in the US, Haiti, Burkina Faso, India, Nepal and elsewhere around the world. Crowdster's primary goal is to further the mission of non-profits by providing an easy-to-use, low cost online platform for fundriaising.
Contact Information:
Contact: Joe Ferraro, CEO
Company: Crowdster
Email: support(at)crowdster(dot)com
Mailing Address: Thoughtbox @ LIU | 720 Northern Blvd, Brookville, NY, 11548
Phone: +1 516 501 9366
Web: http://www.crowdster.com
LinkedIn: Follow Company Crowdster
Twitter: @Crowdster