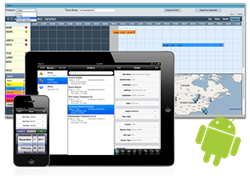 Milwaukee, WI (PRWEB) January 15, 2014
MSI Data, a leading developer of field workforce automation software, today announces that its enterprise service management system, Service Pro®, will be on display at the AED Summit & CONDEX in booth 326 in Houston from January 16th to the 17th. MSI Data's service management, scheduling and cross-platform native mobile application helps equipment dealers improve enterprise-wide field service management and increase mobile field workforce efficiency.
From Mobile Technician App to Management Portals – End to End Field Service Management
Service Pro® automates costly service business process delays and inefficiencies for equipment distributors by connecting the office and the field with a single management system that unifies call taking, dispatching, invoicing scheduling, labor time, parts/inventory, equipment assets, warranties, maintenance contracts, tasks, inspections, photo & signature capture and service history.
Service Pro also broadens access to key service business intelligence for equipment distributors by:

Mobilizing Service Technicians – automated field data collection for service technician work orders and inspections with Service Pro Mobile for iPad, iPhone, Android or Windows devices
Empowering Service Schedulers – web-based visual technician scheduling empowers office workers to make rapid, intelligent scheduling decisions with tech location, availability and skill data
Involving Field Service Stakeholders – web-based stakeholder portals extend system utilities to technicians and customers, and field service performance data to management
Including a powerful mobile work order and inspection application for iPad, iPhone, Android or Windows, Service Pro helps equipment distributors optimize utilization of service resources in the field and in the office, eliminate costly delays in field to office work order management, improve their businesses through better service delivery to product users.
Deep Field Service, Maintenance and Repair Functionality Meets Advanced Technology
Service Pro® magnifies the utility of its equipment service management capabilities for important internal and external stakeholders with advanced web, mobile and database technologies:
Cross-Platform, Native Mobile App – Service Pro® Mobile is a native app for iPad, iPhone, Android or Windows smartphones, tablets or phablets
Field Forms Builder – Rapidly create native, cross-platform mobile field data collection templates with a web-based drag and drop builder
Visual Scheduler – Web-based visual scheduling application connects seamlessly with technician mobile devices
Events Manager – configurable alerts, escalations and workflow engine
Stakeholder Web Portals – configurable web portals for key field service stakeholders, including customers, service technicians, operations managers and executives
Business Systems Integration – Service Pro can be integrated with ERP, CRM, Accounting, Telematics and other business systems
About Service Pro® Field Service Management Software
Service Pro®, MSI Data's flagship depot repair and field service software product, gives companies the ability to closely align field service and repair center business processes with software. Service Pro® helps organizations more effectively manage field service operations such as contract and warranty management, service parts and logistics, depot repair and order processing, advanced scheduling, inspection, mobile field service, and advanced business intelligence reporting. Service Pro® is available as either a hosted/cloud or on-premise solution providing a scalable low cost subscription model. To learn more about Service Pro®, please visit http://www.msidata.com/service-pro-software.
About MSI Data
MSI Data develops enterprise, scheduling and mobile software that helps companies improve the productivity of their field workforce. World class service organizations rely on MSI Data's powerful suite of field workforce software to automate field service, inspections, site surveys, audits, reporting and other critical field-driven business processes. MSI Data replaces paper and disconnected spreadsheet-based business processes with highly efficient, end-to-end processes through the combination of mobile technology for field workers and ERP, CRM and accounting systems integration. Whether deployed in the cloud or on-premise, MSI field workforce software applications are easy to acquire, easy to deploy and deliver enterprises with rapid return on investment. For more information, please visit http://www.msidata.com.
iPad® and iPhone® are registered trademarks of Apple. Android® is a registered trademark of Google. Windows® is a registered trademark of Microsoft.