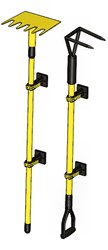 Lancaster, NY (PRWEB) September 30, 2013
Performance Advantage Company announces the newest addition to their locking tool bracket line with the development of a tool for Wildland and Brush Fire Management Vehicles: The Stow 'N Lok bracket.
Brush and forest fires claim lives, destroy property and ruin precious resources. The heroes that fight these fires deserve the best tools and equipment Performance Advantage Company can offer. The newest tool is ideal for brush trucks because it offers a friction lock that allows for quick placement and retrieval. The positive lock provides secure attachment when traveling over rough terrain.
Wildland Fire Fighters were the customers in mind when creating this product, especially in the Stow-n-Lock feature. The lock has the options of both high and low profile to fit any NFPA 1901 9G compliant application. The tool was designed to be easy-to-use so it can be utilized when needed. It is a simple action of pushing in, pulling out and locking with the strap. The strap is available in yellow or orange.
Performance Advantage Company brackets are used worldwide on mobile installations such as Naval Vessels, Fire Apparatus, Crash Trucks, Wreckers, SWAT cans and much more. All PAC brackets mount to their special line of aluminum toolboards or any flat surface. In addition, all products are sold with all necessary hardware included. Performance Advantage Company and their customers believe they are the best so a lifetime warranty is included with every purchase in case of repairs.
Performance Advantage Company can connect with teams around the world with the addition of their new video conferencing systems. Contact PAC: 888-514-0083 or see the PAC website for more information.
Click here to see a virtual tour of the PAC classroom on YouTube, http://www.youtube.com/user/pacbracket.
About the company:
Performance Advantage Company, established in 1992, is a privately owned company which manufactures and markets high quality tool mounting brackets. PAC's primary market is the fire industry providing specialty tool mounting solutions for fire apparatus. Other markets include the military, law enforcement, EMS, utilities and Homeland Security. PAC provides adjustable mounts, universal mounts, friction locking brackets, custom tool boards and more. A full list of their products and specifications can be found on their website. Performance Advantage Company is headquartered in Lancaster, N.Y., a suburb of Buffalo, and sells its products directly or through a worldwide network of dealers. Please visit PAC on the web for more information.