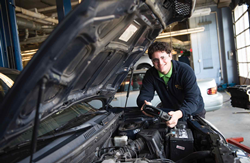 "We're providing programming in the career fields students want to pursue that will ultimately help lead them to sustainable, wage-earning careers." —Dave Curry, MHS Director of Career and Technical Education
HERSHEY, Pa. (PRWEB) February 11, 2019
This February, Milton Hershey School celebrates its roots in career and technical education (CTE) and the continued evolution of its CTE program to meet the changing needs of today's 21st century workforce.
In 1909, career and technical education looked very different at Milton Hershey School, a cost-free residential school for children from disadvantaged backgrounds founded by chocolate maker Milton Hershey. Nestled in central Pennsylvania's countryside, early 20th century CTE programming at the school provided hands-on instruction primarily focused on agricultural and mechanical trades.
Over the years, the school's CTE program has adapted to match industry trends and meet the changing needs of today's students, developing career pathways that range from Automotive Technology to Law, Public Safety & Security. MHS recently added its 12th career pathway in Education and Human Services.
"After analyzing current career opportunities in Pennsylvania and the United States, along with the employment projections for the next 10 years, we designed the Education and Human Services career pathway to give our students a head start and help develop a more skilled pool of educators and social workers throughout the state," said Dave Curry, MHS Director of Career and Technical Education.
While MHS students are still in high school, they benefit from specialized, hands-on instruction in the career pathway of their choice, internship and job shadow experiences, and industry-recognized certification opportunities. The school's CTE program is tailored toward students' individual passions and interests, preparing them for both college and the modern workforce.
"We're providing programming in the career fields students want to pursue that will ultimately help lead them to sustainable, wage-earning careers," Curry added.
In addition to the projections for careers in education and human services, The Bureau of Labor and Statistics predicts that construction careers, along with healthcare and personal care, will account for more than 5.3 million new jobs by 2022.
To prepare students for the increased demand in the trade industry, MHS offers two pre-apprenticeship and hybrid apprenticeship programs that are the first of their kind in the state of Pennsylvania. The programs were approved by the Pennsylvania Department of Labor and Industry and implemented within the past year.
"As the first state-registered pre-apprenticeship program in Pennsylvania, our goal is for our students to receive hands-on experiences while in high school and to join the world of work with the necessary training and skills to succeed," Curry said.
With a renewed societal focus on the value of CTE, MHS facilitates information-sharing throughout the year to encourage collaboration among educators and industry experts. On Wednesday, Feb. 20, MHS will host a Twitter chat with leading educational organizations and contributors to generate conversation around the increasingly important topic of career and technical education, and specifically the renewed interest in apprenticeships. Participation is encouraged and the conversation can be followed by using #MHSChat #CTEMonth.
Along with knowledge-sharing, MHS is committed to early exposure programming—introducing students to CTE as early as elementary school and helping them create individualized career goals and ambitions.
During the month of February and beyond, CTE continues to play a large role in the school's mission of breaking the cycle of poverty by providing the necessary skills for students to live fulfilling and productive lives.
More information about Milton Hershey School's Career and Technical Education program and upcoming Twitter chat can be found at mhskids.org.