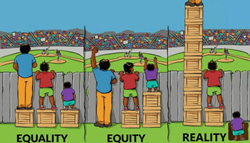 We Have a Plutocratic Healthcare System
Charlotte (PRWEB) December 28, 2016
Dr. Tom Price (new DHHS Head) will use the free market and six principles to reform healthcare. But what's missing from TrumpCare? Equality and Equity.
And what else is missing? The people's voices and their stories about unfair healthcare. Dr. Botelho insists that we must have public hearings about the proposed changes before Trump repeals ObamaCare and removes individual mandates for health insurance. Access to healthcare will get worse. Trump's policies will cause almost 21 million people to lose their insurance coverage.
Inverse Care Law for Injustice
High-income families get easy access to excellent healthcare services with the best outcomes. Low-income families get inadequate access to healthcare services with the worst outcomes. The people who need the most get the least, and the people who need the least get the most. We have a plutocratic healthcare system.
"Of all the forms of inequality, injustice in health care is the most shocking and inhumane." Martin Luther King Jr.
But equal access to healthcare does not assure equitable outcomes. Equality does not equal equity. Dr. Botelho adapted MLK's quote to address equity.
"Of all the forms of injustices, inequities are the most damaging to our health, our well-being and our evolving human consciousness."
Gender and Health Equity is the attainment of the highest level of health and well-being for all people. The word gender is added to explicitly emphasize both women's and LGBT rights because they are often overlooked or minimized.
Dr. Botelho proposes this New Year's Pledge. "We, the people, pledge that our government to use justice, equality and liberty to implement Gender and Health Equity in all policies for the greater good of all."
Dr. Botelho invites the Mainstream Mass Media to ask President Obama, Michelle Obama, Hillary Clinton and Bernie Sanders to sign this New Years' Pledge for Gender and Health Equity.
To complement this pledge, Dr. Botelho invites health organizations to take this professional pledge: "We, as healthcare professionals, pledge to use our limited resources to:

Enhance person-centered and family-centered healthcare
Strive toward gender and health equity
To complement this pledge, Dr. Botelho proposes this New Year's Resolutions for the people. "We will tell our stories about what's most unfair about healthcare as a way to make our government accountable to the people." Share stories about unfair healthcare on Facebook in 2017.
Dr. Botelho believes mass media support, political advocacy and engaged citizens will create the network power to launch story movements, provided that people have ongoing opportunities to tell their stories about unfair healthcare. Dr. Botelho feels that this cascade of events will disrupt Trump's control of the media. Story movements will force President Trump to listen to the voices of the people.
JOIN MILLION ONLINE MARCH by using Facebook and Twitter
Help launch story movements to address what's unfair about healthcare. Sharing our stories will generate dialogues about how to:
1. Move beyond political fundamentalism (either/or thinking) and dysfunctional polarizations
2. Open closed hearts and minds in order to maximize the upsides and minimize the downsides of individual values (liberty and freedom) and community values (equity and equality)
3. Put creative solutions on the frontburner and political ideology on the backburner
DEADLINE: Dec 31st 2016.