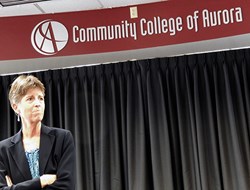 What's nice about this is it makes issues of race explicit. It's helping us have some hard conversations, looking at a very specific group of students, and how they're experiencing the institution and why, perhaps, they're not being as successful.
Denver, CO (PRWEB) September 26, 2013
The Community College of Aurora is taking a hard look in the mirror in order to discover impediments that may be adversely impacting its African-American population as part of a two-year, $1 million project designed to transform the college into an "equity-minded" institution while identifying goals that will shape state higher-ed policy.
CCA, one of the community colleges in Colorado, already boasts a highly diverse student population. Nevertheless, gaps exist in the types of academic milestones achieved within that broad populous.
The project is being spearheaded by the Center for Urban Education at the Rossier School of Education at the University of Southern California and the Western Interstate Commission for Higher Education, in conjunction with the Colorado Department of Higher Education. It is being financed by a grant from the Bill and Melinda Gates Foundation.
CUE and WICHE partnered previously on an equity-focused project in Nevada.
Colorado leaders are seeking to identify goals related to equity gaps in targeted academic milestones -- such as retention; science, technology, engineering and math courses; and transfer or degree completion.
"What we're trying to do in this project is figure out how different students experience the Community College of Aurora differently," said Dr. Betsy Oudenhoven, the college's interim president. "One size doesn't usually fit all. You have to take into account who your particular students are and where they're starting from, and I think sometimes we are reluctant to have conversations about race and other factors that are impacting our students. Because of the diversity, I think sometimes we think everybody's doing fine.
"What's nice about this is it makes issues of race explicit," Dr. Oudenhoven added. "It's helping us have some hard conversations, looking at a very specific group of students, and how they're experiencing the institution and why, perhaps, they're not being as successful. And it's turning it the way it should – which is looking at ourselves."
Metro State University and the University of Colorado-Denver are other in-state entities participating in the program, which endeavors to provide practical tools and systems to measure and improve student success.
CCA is the lone community college involved in the project in the state and may be one of the most diverse higher-ed institutions in Colorado, making participation in this study "an obligation," according to Dr. Oudenhoven. But diversity doesn't necessarily translate to equity when it comes to success.
That runs counter to Community College of Aurora's values, meaning this self-reflective process could result in necessary adjustments on the college's part in order to create a classroom experience that is more welcoming and aligned towards the success of all students.
Factors such as gender, class, religion, disabilities, and ethnicities have a surprising ability to impact that process.
The Equity in Excellence initiative is part and parcel of efforts over the last two years in Colorado to reform the state's higher-ed system. The project, further, will integrate campus-level action plans and benchmarks into overall state policy reforms in order to strengthen the state's policy strategies, particularly with respect to closing postsecondary attainment gaps.
Dr. Oudenhoven has spent her professional life in higher education and done work with issues of racism, white privilege and diversity and admitted while it sometimes was uncomfortable and difficult, it also was ultimately helpful.
At CCA, information thus far has shown that African-American students are persisting from fall to spring at higher levels than other student groups but there's a sharp decline to the next fall. The reasons behind the loss of those students is just one area Community College of Aurora will explore in its goal of becoming an equity-minded institution.
"I don't expect it to be all good news," Dr. Oudenhoven said of the review. "But I think it's really critical that we have these conversations and have them out in the open. The data is pretty clear. Our students of color are not performing – and we're not alone in this. But just because we're not alone and some of those students have significant challenges doesn't let us off the hook. … There may be surprises about what's helpful or what students perceive and we may inadvertently be doing something to create barriers. It's not easy to hear, but it's helpful information if we can act upon it."
About CCA
Community College of Aurora has campuses at CentreTech and Lowry in the greater Denver area. Equipped with the latest technologies, CCA allows students to study new and traditional programs, while also offering Colorado online classes and degrees. CCA's service community spans 325,000 people in a 350-square-mile area and CCA's student population reflects that diversity. The college provides lifelong educational opportunities, prepares the current and future workforce, and promotes excellence in teaching, learning and service.