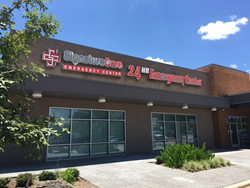 Houston, TX (PRWEB) June 30, 2017
SignatureCare Emergency Center has announced an eighth location opening in Westchase at end of 2017, or early 2018 serving the Westchase and Houston areas.
SignatureCare Emergency Center- Westchase will be under construction very soon and we expect to see patients by early 2018. "The entire team at SignatureCare is excited that we are expanding our top-rated emergency medical services to the Westchase area," said SignatureCare Emergency Center's Chief Medical Officer, Aaron Braun.
SignatureCare Emergency Center – Westchase will include the full-time emergency services the other locations offer. This includes trauma and injury care from board-certified doctors and nurses, imaging and laboratory services, and a comfortable environment. The staff at SignatureCare are equipped to deal with most emergency medical situations for both adult and pediatric patients.
"Our Westchase location is in a great area for patients needing emergency room care" said Braun. "We are excited to be expanding and will continue to grow and open ERs in neighborhood communities that need emergency room care close by."
For more information on the opening of SignatureCare Emergency Center – Westchase, visit http://ercare24.com/westchase/ Construction information and updates will be made on our website as they are available.
About SignatureCare Emergency Center
Licensed by the Texas Department of Health Services, SignatureCare Emergency Centers are freestanding emergency rooms that are always open. SignatureCare has multiple locations in the Houston, Austin, College Station areas with each offering state-of-the art medical imaging, and X-rays. All our emergency rooms are fully staffed with medical professionals, including board-certified physicians, licensed nurses, radiology technicians, and emergency-trained ancillary staff. All SignatureCare Emergency Centers are open 24/7- 365 days a year.
For more information on SignatureCare Emergency Center and its other locations visit http://www.ercare24.com.