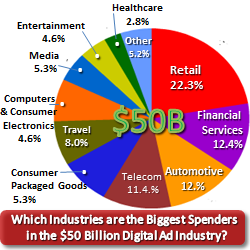 The industry is now so big and there are so many options available, many advertisers attending ERA Las Vegas will need a direct response tour guide.
Carlsbad, CA (PRWEB) August 24, 2014
With the explosion of cross channel direct response opportunities in recent years, advertisers have more options, more platforms, and are more likely to be confused about how to launch a successful direct response ad campaign. This is especially true for first time advertisers attending ERA 2014. The Electronic Retailers Association trade show, also known as ERA D2C (direct to consumers) convention, starts on September 16th, 2014 at the Wynn Hotel in Las Vegas, NV. Scott Kowalchek, a Direct Response TV expert and the founder of media buying agency DirectAvenue, will be on hand during the show to help. "In the past, multi-channel meant TV, radio, mail, telephone, and in-store; you could easily tie channels together," said Kowalchek. "Today, it's a much more complicated landscape with online, interactive, social, tablet and mobile platforms to consider." Kowalchek, who is available for consultation during the three-day event, says in order to reach their increasingly mobile customers, advertisers must embrace new platforms they did not consider in the past such as wired automobiles. Vendors representing both familiar and unfamiliar platforms will be on hand during the show, which now has more than 160 exhibitors.
The ERA D2C Convention is the only trade association in the U.S. and internationally that represents leaders of the direct-to-consumer marketplace. Crowding the exhibitor booths at next month's show will be over 3,500 attendees from all facets of direct response marketing. Their goal: learn about the latest technologies and network with their peers, from managers to C-level executives to inventors to founders. "The ERA D2C show is where advertisers come to make decisions about where they want to take their business and who they need to work with to make those plans happen," said Kowalchek. "Unfortunately, the show has become so big and the options for advertising so varied that many advertisers attending the show need a sort of direct response tour guide." Kowalchek plans to be one of the seasoned DR experts available during the show to help advertisers make the right introductions and review the right technologies to help them make the right decisions about their future ad campaigns.
The importance of making these decisions at the ERA Las Vegas trade show was underscored this week by an industry survey which found that more retailers than ever are pouring money into direct response advertising in 2014. The survey, released by eMarketer, predicts that this year, digital ad spending will reach a major milestone: $50 billion, with more than half of all ad spending, 59% going to direct response advertising campaigns compared with branding, which is drawing 41% of the digital total for the year.
Despite or because of all the platforms and options available to advertisers, direct response is regarded as the most reliable form of advertising in the US. Thousands of people who are part of the direct response spending spree will converge in Las Vegas next month, hoping the decisions and introductions they make, with the help of direct response experts like Kowalchek, are the right ones.