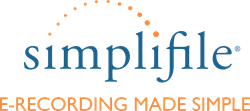 While our customers will always have a choice of coming into our office or mailing documents to us, now they have a third option – e-recording.
AUBURN, N.Y. (PRWEB) August 07, 2013
New York has opened electronic recording (e-recording) in two new counties, Cayuga and Franklin, with Simplifile, the nation's largest e-recording service provider. The online service will allow customers such as title companies, banks, attorneys, lien filers to electronically submit land documents to the clerks' offices for recording.
"E-Recording will allow our local and national customers to electronically transmit documents which have been signed, notarized, and imaged, saving time and money," said Cayuga County Clerk Sue Dwyer. "It is a green way to do business because we will never actually handle or create the paper copy of the document. In addition, we will no longer spend time and money mailing back the documents, which will result in a significantly reduced turnaround time."
Franklin County Clerk Kip Cassavaw also acknowledged, "This is a benefit to our customers because of the convenience of being able to do this from afar."
Prior to e-recording, customers were required to submit their original documents to the county by mail, courier service, or travel to the county office to record their documents. Customers would then have to wait sometimes days or weeks for the documents to be recorded and mailed back; whereas, with Simplifile's service, documents are submitted, received, recorded and returned usually within minutes.
"While our customers will always have a choice of coming into our office or mailing documents to us, now they have a third option – e-recording," said Dwyer. "As more and more customers choose e-recording, my office will be saving on paper, postage, storage space and time. Another advantage of e-recording is that we are guaranteed payment, so there is no issue of bounced checks."
In addition to the time and cost-saving benefits that e-recording provides, this widely-adopted recording method has proven to be more efficient and secure for both the county and its submitters.
"Our experience with Simplifile has been very good so far," Cassavaw said. "We are pleased with the ease at which we are able to offer this to our customers."
Cayuga and Franklin join six other New York counties who have started e-recording (Westchester, Rockland, Oneida, Westchester, Livingston, and Erie).
The counties are accepting electronic documents including deeds, mortgages, discharges, assignments and more submitted through Simplifile.
For more information or to receive training on Simplifile's e-recording service, call 800-460-5657 or visit simplifile.com.
About Simplifile
Simplifile is the nation's largest and fastest-growing e-recording service. Simplifile supports thousands of e-recording customers including title companies, banks, attorneys, lien filers, and other organizations that create and submit documents to more than 900 local, state, and federal government jurisdictions. Simplifile's electronic document services save time and the expense associated with traditional document submission methods. Simplifile is focused on building the industry's largest and easiest-to-use e-recording service for organizations of all shapes and sizes. More information about Simplifile may be found at simplifile.com or by calling 800-460-5657.
"Simplifile" is a registered service mark of Simplifile, LC.
###