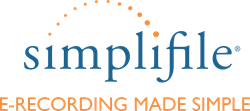 There is no reason you could not do your probate office business in your pajamas while seated in front of your home computer.
ELMORE COUNTY, Ala. (PRWEB) August 22, 2013
Elmore County, Ala., announced it is now e-recording with Simplifile, the nation's largest e-recording service provider, enabling customers to electronically submit and record land documents more efficiently and conveniently.
E-Recording is a method of submitting, receiving, and processing land and real property-related documents for recording via the Internet that have traditionally been delivered to the county for recording by runner, mail, or courier service.
Judge Enslen and his staff in Elmore County had been searching for a new technology to facilitate the recording of deeds, mortgages, and other legal documents by electronic means, and after several months of researching different options, they learned about Simplifile's e-recording service.
"There is no reason you could not do your probate office business in your pajamas while seated in front of your home computer," said Elmore County Probate Judge John Enslen.
Linda Blankenship, one of Elmore County's probate office employees, said, "Over time, electronic recording of documents will lessen some of the heavy demands on us, as well as provide a convenience for those who regularly submit documents for recording."
Simplifile's e-recording service eliminates the need for submitters to mail documents or travel to the probate office, helping to save money, paper and time.
The probate office is still accepting documents sent by mail, courier service, runners, and individual walk-ins, but the new e-recording service provides a faster, simpler option for law firms, mortgage companies, abstractors, banks, lenders, and individuals throughout the world to securely file their documents online.
"There are so many great benefits that come with e-recording, and we are excited to bring those benefits to Elmore County and their customers," said Paul Clifford, president of Simplifile.
Elmore County is the second Alabama county to offer e-recording through Simplifile, following Montgomery County which started offering the service in 2011.
Simplifile provides free training and information to help new and interested users start e-recording. For more information about e-recording in Montgomery County or Elmore County, call 800-460-5657 or visit simplifile.com for more information.
About Simplifile
Simplifile is the nation's largest and fastest-growing e-recording service. Simplifile supports thousands of e-recording customers including title companies, banks, attorneys, lien filers, and other organizations that create and submit documents to more than 900 local, state, and federal government jurisdictions. Simplifile's electronic document services save time and the expense associated with traditional document submission methods. Simplifile is focused on building the industry's largest and easiest-to-use e-recording service for organizations of all shapes and sizes. More information about Simplifile may be found at simplifile.com or by calling 800-460-5657.
"Simplifile" is a registered service mark of Simplifile, LC.
# # #