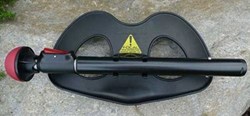 We love this new seat. It is lightweight and perfect for travel, soccer games or the Christmas Parade. It offers amazing comfort, it is portable enough to fit in a back pack and can go anywhere.
Los Gatos, CA (PRWEB) November 20, 2013
We've Got Your Back is pleased to introduce the latest in mobile seating by Focal. The Mogo portable upright seat is lightweight and appropriate for any setting or terrain; it was even called "the human kickstand" by the product testers.
This lightweight, totable seat can be used as a quick and easy seat at sporting events, a summer concert on the grass, or even as a brief rest while hiking. Indoors, Mogo fits right in as a seat for teachers during a discussion with their class or even during a meeting with limited seating.
The Mogo is a slight, 2.1 pounds and can fit into a tote bag. It is made of extruded and anodized aluminum, rubber and fiberglass-reinforced nylon. It also comes with a reversible rubber base for turf or hard surfaces.
The Mogo extends via three telescoping sections and reaches only 18 inches long when fully retracted. It can go up to 37 inches when fully extended. When adjusting the seat, it moves in one-inch increments to be more user-friendly and will provide the best fit for variable heights. Mogo will support up to 200 pounds and the seat is specially designed at 14.5 inches to be comfortable.
We've Got Your Back is now carrying the Mogo seat in their store located at 114 Royce St. in Los Gatos. Stop in today to check it out.
About the company:
We've Got Your Back is a women-owned business that delivers best-in-class products and services in ergonomic office accessories and seating, fitness gear and comfort solutions. Its goal is to provide education, information and products that ultimately eliminate the root cause of back pain and neck pain. The showroom in Los Gatos is designed to serve the community with educational programs, fitness training and product demonstrations.
We've Got Your Back offers its products and solutions to support the home office, telecommuter or the office workstation with training, chair fittings, ergonomic assessments and lifestyle support programs. Products include ergonomic seating, zero-gravity chairs, neck pillows, massage chairs, sit-to-stand desks, doctor-recommended pillows and more. We've Got Your Back is located at 114 Royce St. Los Gatos, CA 95030. Visit their website for more information, http://www.back2active-bayarea.com.