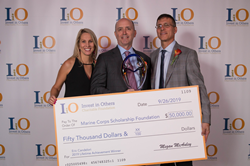 "I am extremely honored to receive this award from Invest in Others. It's exciting and gratifying to be part of a group that devotes its entire mission to helping people in need, whoever and wherever they might be." -Eric Candelori, EMP180° Owner
ROCKVILLE, Md. (PRWEB) October 10, 2019
Business leader and former U.S. Marine Eric Candelori was recognized by Invest in Others with the nonprofit organization's 2019 Lifetime Achievement Award for dedicating more than four decades of leadership and service to the Marine Corps Scholarship Foundation. Invest in Others presented the award during its annual gala held September 26, 2019, at the Westin Boston Waterfront in Boston, Massachusetts.
Candelori said his service to the Marine Corps Scholarship Foundation is a way to honor the legacy of his late father, who was a Colonel in the Marine Corps Reserves. The Foundation provides scholarships for the children of Marines and Navy Corpsmen in-need to recognize their parents for their service. Established in 1962 in the spirit of Semper Fidelis — always faithful — the Marine Corps Scholarship Foundation is the only military scholarship provider to make an award to every single eligible student who applies.
Candelori, who is currently the Foundation's vice chairman, has also served in the roles of fundraiser, treasurer and acting president. He has helped grow the Foundation from a small, informal organization awarding a few scholarships a year to a vibrant fund that provides 2,500+ scholarships collectively worth more than $8 million annually.
"I am extremely honored to receive this award from Invest in Others," said Candelori. "One of the best things about this recognition is the $55,000 that comes with it — every dollar of which is going to the Marine Corps Scholarship Foundation. It's exciting and gratifying to be part of a group like Invest in Others that devotes its entire mission to helping people in need, whoever and wherever they might be."
About Eric Candelori
Eric J. Candelori, CIMA®, is Senior Vice President, Wealth Management Advisor in Vienna, Virginia. Candelori, who began his financial services career in 1987, assists clients by helping them manage their individual wealth to meet their individual needs. He focuses on offering a comprehensive approach to managing wealth that begins with listening to a client's needs and helps to ensure every strategy is grounded in understanding what each client wants to achieve.
Candelori is also cofounder of EMP180°, a rapidly expanding weight-loss and coaching center serving the Washington, D.C., region. EMP180° — which is opening its sixth center October 16, 2019, in Potomac, Maryland — offers personalized nutrition and weight-loss programs based on personal health metrics, history and goals to help individuals and entire families permanently change their health.
Eric has always invested in his own health and is passionate about helping others. As a former competitive bodybuilder and current triathlete, he is very aware of how to fuel his own body to achieve optimal performance. When he examined the weight loss business, he saw an industry overly focused on selling food and too many doctors recommending surgery. He knew there was a better solution. Eric decided to become a steward for the weight loss community — bringing the same discipline and personalized service he practiced for so many years in the Marine Corps to the weight loss market.
With his partner, Jim Moore, they embarked on a mission to change the way people think about weight loss. EMP180° is a personalized weight loss program that focuses on education, lifestyle changes and EMPowering people to lose weight and keep it off forever. Through their program, they've helped thousands of clients get healthy and improve the quality of their lives.
About Invest in Others
Invest in Others recognizes individual advisors and firms that are making a difference by donating their time and money to causes they care about. By sharing their stories and awarding funding to these organizations, we build critical visibility, encourage others to get involved, channel additional resources to those in need and highlight the important work being championed by the financial services community. To learn more, visit https://www.investinothers.org.