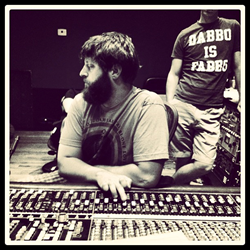 Nashville, TN (PRWEB) August 20, 2014
The Casino, a studio based in East Nashville, records LPs and EPs for signed artists and bands all over the city. Eric Masse is the producer who brought the Casino to the mainstream in nashville community. Masse, who graduated from Berklee school of Music, is a Michigan native who has now made East Nashville his home. Masse began concept development of the Casino seven years ago with a goal of providing the best equipment, the warmest environment, and most importantly, to produce exceptional music. Masse has worked with a broad range of talent in Nashville. He has worked with artists who are signed pop-country artists like Charlie Worsham, Dierks Bentley, and most recently, an album with Mikky Ekko.
Masse made the decision a year ago to bring in the next level of consoles for expanded capability when mixing and recording music. The final selection for the console was API's new "The BOX" project console. Masse consulted Chad Evans at Vintage King while he upgraded his studio, and now admits that The BOX was "the missing piece" in his setup.
"I had been craving the next step up for my 16 I/O studio for a while," said Masse. "When I heard about The BOX last year, I started gearing up for it."
The Casino, which is also home to two API lunchboxes, six 512c mic pres, a 5500 dual equalizer, and a 2500 stereo compressor, decided to stick with the brand when looking to gain control over pans and add inserts.
Masse continued. "I can hardly contain my head from exploding from all the options. It's the centre of my studio. I can route things in the mix like never before, and parallel compress things all analogue. I can add outboard effects post-conversion to individual tracks, and I don't have to use my converters to feed the hear-back headphone hub. I can instead build a mix with the sends, and use the inserts for direct 'more me's' and use all 16 converters for audio."
The customizable 500 Series inputs allow The Casino to create its own unique sound. "I like that I can utilize the 500 Series slots on the program bus, while still using the input channels. So far, to be honest, I like everything about it," Masse stated.
The Casino Studio is located in East Nashville, TN. Masse grew up on Motown but now attributes part his success to an ability to circumvent genres, realizing that notes of outlaw country can permeate synthetic sounds, and vice versa. He regards music with a keen wonder, and possesses that x-ray vision all great producers share; it's an ability to peer inside the skeleton of a song, assess its contents, and subsequently bring it to life.
Masse Says "When I look for an artist, something has to speak to me about them. I just want the music to move me, period."
for more information on Producer Eric Masse and The Casino, click the link.