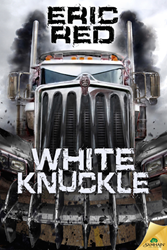 Like all the best writers — and directors — Eric Red is versatile. Whether he's dealing with the supernatural or the psychological, he knows exactly how to get the maximum suspense and tension out of any scene. He's a master at it!
Los Angeles, CA (PRWEB) March 11, 2015
There's a killer on the road… He's a big rig truck driver who goes by the CB handle White Knuckle, and he's Jack the Ripper on eighteen wheels. For thirty years he has murdered hundreds of women in unimaginable ways, imprisoning them in a secret compartment in his truck, abducting them in one state and dumping their dead bodies across the country. Dedicated FBI agent Sharon Ormsby is on a mission to hunt down and stop White Knuckle. She goes undercover as a truck driver with a helpful long hauler named Rudy in a cross-country pursuit that will ultimately bring her face-to-face with White Knuckle in a pedal-to-the-metal, high-octane climax on a highway to Hell. The official release date is June 2, 2015.
Samhain Publishing Executive Editor Don D'Auria says: "Like all the best writers—and directors—Eric Red is versatile. Whether he's dealing with the supernatural or the psychological, he knows exactly how to get the maximum suspense and tension out of any scene. He's a master at it!"
Plot Summary: A nurse named Carrie Brown driving home on a rainy night interstate in Omaha is menaced by a tractor trailer eighteen wheeler that runs her off the road. The driver abducts Carrie and locks her in a coffin-like steel stash hold under his truck. FBI Special Agent Sharon Ormsby, an analyst in the Bureau's Highway Serial Killer Initiative division, discovers precise similarities between cases involving women who disappeared in one state whose dead bodies were recovered across the country. She becomes convinced a truck driver serial killer has been on the road for thirty years and is still at large. When the FBI launches an investigation, Sharon gets authorization to go undercover as a truck driver, enlisting a cooperative, seasoned trucker named Rudy Dykstra to let her do a ride along. The operation is like finding a needle in a haystack, as Sharon and Rudy get on the road and drive the serial killer trucker's routes, interviewing truck drivers and witnesses who may know the monster's identity. When the abducted nurse Carrie manages to make a cell phone call to her sister from inside the big rig, the FBI gets a break in the case. A chance encounter with a menacing trucker on the citizen's band radio named White Knuckle gives Sharon the serial killer's CB handle. A cross-country game of mouse begins between the FBI agent and the cunning maniac trucker as the line becomes blurred who is the hunter and who is the hunted. In a terrifying climax, Sharon is captured by White Knuckle and imprisoned in the serial killer's stash hold inside his tractor-trailer. The agent makes a desperate escape from her steel cage to crawl under and over the speeding eighteen-wheeler, facing the monstrous truck driver in deadly hand to hand combat inside the big rig on the treacherous Teton Pass in Wyoming, a final showdown that is hell on wheels.
About The Author: Eric Red is a Los Angeles based novelist, screenwriter and film director. His first novel, Don't Stand So Close, is available in hardcover and trade paperback from SST Publications. His second and third novels, the werewolf western The Guns Of Santa Sangre and the sci-fi monster novel It Waits Below, are available from Samhain Publishing. Recent published short stories have been in Weird Tales Magazine, Cemetery Dance Magazine, Shroud Magazine, and the Dark Delicacies III: Haunted anthology. He created and wrote the comic series and graphic novel Containment for IDW Publishing and the comic series Wild Work for Antarctic Press. His films include The Hitcher, Near Dark, Cohen and Tate, Body Parts, Bad Moon and 100 Feet.
Please click on the link to view the book cover art: http://bit.ly/1AU8wVK
###
Samhain Publishing, 11821 Mason Montgomery Road, Cincinnati Ohio 45249