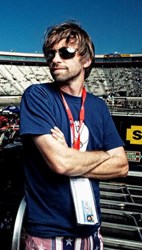 (PRWEB) September 18, 2013
Erik Muendel, CEO and Creative Director at Brightline Interactive, will be delivering a presentation on the integration of social media into event technology during the 2013 Digital Day with the Direct Marketing Association of Washington. The day-long conference will be held October 16th at the Gannett Headquarters in McLean, VA. Erik's presentation, titled: "Social Machines: Social Media for Events" will take place at 11 AM.
Social machines are experiences that transform digital actions into tangible results via the use of social media and a physical apparatus that serves to attract users. These experiences are incentivized, so that consumers choosing to, for example, tweet using a specific hashtag crafted by the brand, earn the chance of winning a prize. The tweets sent from the users' phones create a physical action—perhaps blowing air into a balloon, or shooting paint from a gun—until an end result is achieved—the balloon is popped, or a painting is completed. Social machines allow brands to capture user data, and are completely social media-integrated for optimal use at all kinds of events.
The Direct Marketing Association of Washington is the largest regional direct marketing association in the US. DMAW members are end-users, vendors, suppliers, agencies, freelancers, educators, and students, the majority of whom are located in the Washington Metropolitan, Baltimore, and Central Virginia areas.
Erik has extensive speaking experience, and is a well-respected leader in the experiential marketing industry. Though he covers many different topics, Erik is specifically focused on the areas of emerging technologies, integrating digital experiences into on-site activations, and developing attractive, engaging interfaces for seamless user experiences.
Erik's previous speaking appearances include Event Marketing Summit, ad:tech San Francisco, Digital Summit, EVENTtech, ad:tech New York, The Future of Touch and Interactivity, and Ignite DC. Erik is also the founder of the Meetup.com group #DCExperiential.
About Brightline Interactive
Brightline Interactive is an award-winning, multi-discipline digital services agency that delivers creative solutions for web, mobile and experiential environments. Based in Alexandria, Virginia, Brightline develops, delivers, and promotes branded solutions for both the public and private sectors by blending creativity and expertise of any and all media and technology available. See more at http://brightlineinteractive.com.
###