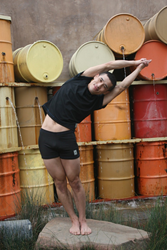 Eros Sport fitness gear is designed for men by men.
Laguna Niguel, CA (PRWEB) June 24, 2014
Eros Sport is excited to announce the launch of its new premier athletic apparel designed specifically for men. Eros Sport products are made in the USA and are crafted to last through vigorous workouts and repeated machine washes.
Eros Sport's journey began when the creative director of Eros Sport, Oscar Espinoza, found that men's shorts and shirts for Bikram yoga and hot yoga could be improved. Oscar found that other brands' products were poorly constructed, had fabrics which were too thin or thick, were not breathable enough, or had styles too extreme for most men. Oscar set out on a 2 1/2 year mission to research best breathable fabrics, threads, fasteners and sewing contractors. Many prototypes were developed and tested resulting in the athletic product line offered today.
All Eros Sport are designed in California and Made in USA. Eros styles of shorts and shirts utilize fabrics with high quality micro-fibers that breathe during workouts to keep athletes cool. Eros Sport fitness clothing can be used in yoga, pilates, swimming, running, boxing, mud runs, dance and trx. Eros Sport shorts and t-shirts are best for bikram yoga or hot yoga practice and pilates. The designs allow for full range of motion that's needed in most sports.
Eros Sport fitness gear is designed for men by men. Thought has gone into each style to deliver best fit and function. Eros apparel is more comfortable, cool and stylish. Eros Sport athletic clothing is constructed to last with high quality fabric, thread and fasteners. Quality matters when garments are put through the punishment of intense workouts or extreme sports. Men can depend on Eros Sport with Made in USA quality.
About Eros Sport
Eros Sport is a premium athletic clothing brand with clean stylish lines. Eros Sport fitness clothing is fashion forward. Workouts are better when you feel that you look good. Contrast stitching is used to give a subtle pop of color. Eros will be adding more styles every few months. Visit http://www.erossport.com to see the whole collection. Register for Eros Sport newsletter at https://2cc1b4.campgn5.com/Eros-Sport-Newsletter-Signup .