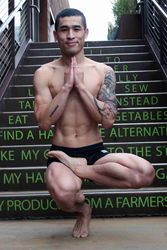 Eros Sport Yoga Lifestyle Blog will include topics to enhance the life of a man who practices yoga.
Laguna Niguel, CA (PRWEB) June 26, 2014
Eros Sport, a made in the USA fitness clothing brand, is pleased to be launching a new yoga lifestyle blog for men.
The Eros Sport Yoga Lifestyle Blog will include a variety of topics including athletes and celebrities who practice yoga, yogis in yoga poses, healthy recipe ideas, the benefits of practicing yoga, the benefits of meditation, famous quotes and inspirational ideas. Featured topics will take a look at reasons why men are doing yoga and the benefits men gain as a result of yoga practice. Headline grabbing athletes and celebrities will be showcased as personal interest pieces. Yogis will display yoga poses. Better eating ideas will be presented through recipes for meals and juices. Famous quotes and affirmations will give any day a lift.
Eros Sport invites interested yogis, health and wellness practitioners, athletes who are interested in improving performance and others who desire to better themselves to follow the blog. Eros Sport encourages readers to engage by commenting on posts and submitting ideas for future articles. The blog will be updated bi-weekly.
About Eros Sport
Eros Sport is a premium athletic apparel brand focusing on the unique needs of men who practice yoga. Every Eros Sport product is designed by men for men. Quality, breathable fabrics are used for cooler, more comfortable workouts. Eros Sport designs are fashion forward with clean, sleek lines. Contrast stitching is used to give a subtle pop of color. Workouts are better when you feel that you look good. Eros will be adding more styles every few months. Visit http://www.erossport.com to see the whole collection.
Register for Eros Sport newsletter at https://2cc1b4.campgn5.com/Eros-Sport-Newsletter-Signup.