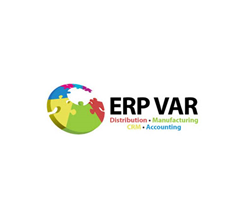 "ERPVAR has done a great job of giving businesses an objective place to evaluate various different ERP and CRM brands," said Dan Kraus, president of Leading Results.
Dana Point, CA (PRWEB) February 25, 2014
ERPVAR.com a network of ERP consultants announced today the formation of a strategic partnership with Leading Results Incorporated. Leading Results is a lead generation and marketing services firm serving business applications software publishers and resellers including those representing Sage 100 ERP (formerly MAS 90 and MAS 200) Sage 500 ERP, Sage X3 ERP, Microsoft Dynamics, SAP Business One, Intacct and SugarCRM.
ERPVAR.com is a website where ERP consultants share expert knowledge pertaining to business process automation and ERP software. Each ERPVAR participating on ERPVAR.com is listed in an exclusive territory and encouraged to share expertise by-way-of blogging. Blogs are shared via Social Media to reach interested prospects seeking solutions to business process challenges.
"We are flattered to partner with Leading Results, Inc. because they are a well known reputable marketing and lead generation firm with years of ERP software marketing and sales experience," said Adrian Montgomery, Partner ERPVAR.com.
Leading Results helps ERP and CRM VARs stop wasting money on ineffective marketing. As a Duct Tape Marketing consulting organization and a certified Hubspot partner, Leading Results creates predictable marketing processes and programs resellers can implement with limited staff for unlimited success. Leading Results has offices in Charlotte, Boston, and Philadelphia and clients around the world.
"There are a lot of choices to make when selecting a new system for your business, and ERPVAR's mission of providing good information to the market is something we are pleased to align with," said Dan Kraus, President, Leading Results.
Leading Results will use ERPVAR.com as a marketing medium to distribute ERP expert knowledge for Leading Results clients. Leading Results' clients will get found by interested prospects seeking business process efficiency and business growth as a result.
ERPVAR.com and Leading Results, Inc. bring years of expertise to offer a powerful marketing partnership. Leading Results, Inc. works with ERPVARs to create compelling content and ERPVAR.com works as a medium to distribute that expert content. By joining forces together Leading Results, Inc. and ERPVAR.com deliver a turnkey marketing offer to generate solid ERP software opportunities for ERPVARs and customers.
To launch the partnership ERPVAR.com and Leading Results announce the following collaborative webinar:
Date: March 13, 2014
Time: 10 AM PT / 1 PM ET
Who: ERP VARs and Consultants
Title: How to Write a Great ERP Software Blog
About ERP VAR
Established in 2012 and headquartered in Orange County, CA, ERP VAR represents the collective expertise of Sage 50 (formerly Peachtree), Sage 100 ERP (formerly MAS90 and MAS 200), Sage 500 ERP (formerly MAS 500), Sage ERP X3, Epicor, Microsoft Dynamics GP, NetSuite, Intacct, Infor, Acumatica and QuickBooks Enterprise third party developers combined with the expertise of local implementation ERP consultants. These local ERP consultants provide end users with a thorough needs analysis to determine which ERP software functionality is required to address their unique needs. If a business process assessment is required, the local channel partner is enlisted to provide a comprehensive examination with end user company departments to insure the correct ERP software is selected implemented and the staff is properly trained. For more information, please visit http://erpvar.com.
About Leading Results Incorporated:
Leading Results improves business development and lead generation results. Utilizing the Duct Tape Marketing system to create effective strategy and Hubspot to implement inbound and content marketing tactics, Leading Results help clients stop wasting money on marketing and lead generation programs that don't get results. Leading Results has offices in Charlotte, Boston, and Philadelphia and clients around the world. For more information on marketing coaching, strategy, inbound marketing and Hubspot, visit the website at http://www.LeadingResults.com.