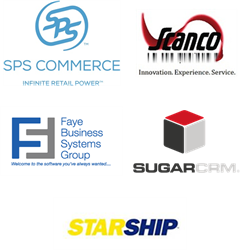 We are thrilled to have these market leading enhancement developers together to demonstrate a fully integrated supply chain automation solution for Sage 100 ERP and SugarCRM users, said Adrian Montgomery, Managing Partner ERPVAR.com.
Dana Point, CA (PRWEB) August 26, 2014
ERPVAR.com, an expert ERP consultant directory, resource center and the world's leader in ERP networking, today announced a collaborative webinar between five market leading Sage 100 ERP supply chain integration developers. In this webinar, Faye Business Systems Group, Scanco, SPS Commerce and V-Technologies, LLC will demonstrate a fully automated Sage 100 ERP Integrated supply chain, sales and customer service solution.
In this webinar, attendees will learn how sales and customer service personnel benefit by accessing Sage 100 ERP data via a browser or mobile device. SugarCRM is a single-tenant web-based cloud application. SugarCRM can also be deployed on-premise with mobile client compliance. The SugarCRM Sage 100 ERP integration application allows for sales and customer service personnel to use SugarCRM via the web or a mobile device to access Sage 100 ERP data without using a Sage 100 ERP user license. SugarCRM users can use the data in Sage 100 ERP to place and track orders, view real-time customer specific pricing, inventory levels, sales orders, invoices, payments, shipments, customer contact information, sales history, item sales history, invoice history, open invoices, and generate quotes and orders.
Additionally, attendees will learn how warehouse personnel benefit by using Scanco, StarShip and SPS Commerce to reduce time in picking orders, eliminate miss-picks, get a real time view of inventory levels, print ASN labels from the handheld and automate the entire pick, pack and ship process within Sage 100 ERP. The entire supply chain automation is viewable via SugarCRM to improve customer service and increase sales.
About the Presenters
David Faye is the CEO of Faye Business Systems Group, a leading software developer, reseller, and SugarCRM and Sage ERP Platinum Partner. Faye Business Systems Group created the Sage 100 ERP (formerly MAS 90) SugarCRM integration to address the growing demand Sage 100 ERP users have for an integrated SugarCRM solution.
Scanco warehouse management solutions extend the capabilities of Sage 100 ERP by offering top tier barcoding applications to automate the shipping, receiving and physical count processes. Scanco warehouse management enables Sage 100 ERP users to streamline all warehouse functions from the point the product comes in the door until it leaves the shipping dock. Scanco offers the latest in technology using iOS, Android and Windows devices giving users the capability to track inventory transactions within their warehouse using tablets or smart phones.
StarShip shipping software streamlines shipping, accounts receivable and customer service functions by accessing and updating order information directly from Sage 100 ERP.
The SPS Commerce Sage 100 ERP electronic data interface (EDI) integration options give Sage 100 ERP users the power to collaborate with high-volume trading partners, without sacrificing the customizability and ease of use that Sage 100 ERP provides.
Attendees will learn how SugarCRM, Scanco, StarShip by V-Technologies, LLC, and SPS Commerce, work together to bring you an integrated streamlined supply chain, sales and customer service automation solution for Sage 100 ERP.
To register for this event or learn about future events, please click here.
Title: 12 Ways to Automate Sage 100 ERP Order Processing with an Integrated Supply Chain and Customer Service Solution
Date: Thursday, September 4, 2014
Time: 10:00 AM PT / 1:00 PM ET
About Faye Business Systems Group
FayeBSG integrations allow companies to utilize best-in-class software without missing out on critical integration components. FayeBSG are software and technology specialists with over 25 years of expertise in CRM and ERP software. Faye's in-house team of developers and consultants work on an ongoing basis to not only develop the most sought after Sugar integrations, but also to consistently upgrade and update the integrations for optimal performance, and to add user requested features. The integrations are well thought-out, consist of the most complete operational functions and are very popular among Sugar users. FayeBSG uses SugarCRM, Sage 100 ERP (formerly MAS 90), Atlassian, and a variety of custom software solutions to meet client needs. Services include software development, project management, packaged software implementations, custom software implementations, integration, consulting, training, and support. Faye Business Systems Group has completed hundreds of successful CRM projects, specializes in Sugar Integrations, and is one of SugarCRM's leading North American Platinum Partners. For more information, call (818) 280 - 4820, email info(at)fayebsg(dot)com, or visit http://www.fayebsg.com. Connect with Faye Business Systems Group on LinkedIn, Facebook, Twitter or YouTube.
About V-Technologies:
Founded in 1987, V-Technologies, LLC is a shipping software development company who has developed a selection of shipping software solutions to meet the growing demand for integrated shipping. StarShip™ and ShipGear® are the two flagship shipping software products. V-Technologies, LLC offers shipping software interfaces with Sage Software's Sage 100 ERP (formerly MAS 90 and MAS 200), Sage 500 ERP, Sage 50, Microsoft Dynamics GP, Microsoft Dynamics AX, Microsoft Dynamics NAV, Everest, Exact Macola, QuickBooks, and Counterpoint. Additional information about V-Technologies and its solutions is available at http://vtechnologies.com.
About Scanco Software LLC
Scanco Software LLC meets the needs of thousands of distribution and manufacturing operations with an extensive line of warehouse management solutions designed to integrate with Sage 100 ERP and Sage 500 ERP solutions. Scanco, a Boros Enterprise Company, has been providing top tier barcoding applications to businesses since 1989. To learn more about Scanco Software LLC visit http://www.scanco.com or call (330) 645-9959.
About ERPVAR.com
Established in 2012 and headquartered in Orange County, CA, ERP VAR represents the collective expertise of Sage 50 (formerly Peachtree), Sage 100 ERP (formerly MAS90 and MAS 200), Sage 500 ERP (formerly MAS 500), Sage ERP X3, Epicor, Microsoft Dynamics GP, Microsoft Dynamics SL, Microsoft Dynamics AX, Microsoft Dynamics NAV, Microsoft Dynamics CRM, NetSuite, Intacct, Infor, Acumatica and QuickBooks Enterprise third party developers combined with the expertise of local implementation ERP consultants. These local ERP consultants provide end users with a thorough needs analysis to determine which ERP software functionality is required to address their unique needs. If a business process assessment is required, the local channel partner is enlisted to provide a comprehensive examination with end user company departments to insure the correct ERP software is selected implemented and the staff is properly trained. For more information, please visit http://www.erpvar.com.