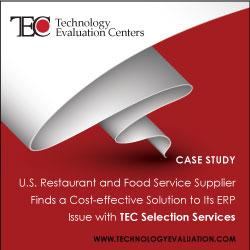 "If not for TEC, we would never have understood all our options, and would have missed the opportunity to get almost all of what we needed for a much, much smaller investment." -- Michael J. Sedlock II, IT Director at Sam Tell
Montreal, Quebec (PRWEB) March 18, 2016
As with most successful midsized companies, US restaurant and food service supplier Sam Tell reached the point where its IT infrastructure was no longer effectively managing the needs of the organization. With Technology Evaluation Centers' (TEC's) help and in-depth software evaluation tools, Sam Tell was able to determine that an upgrade of its current system would meet its growing business needs—and at a much lower cost than acquiring a whole new system.
Sam Tell was dealing with a number of IT-related concerns that centered around disparate software systems and applications, scalability, inventory tracking, warehouse problems, and data silo issues. The company turned to TEC, an independent software advisory firm that helps companies evaluate and select the best enterprise software solutions for their needs. Sam Tell understood that TEC could do more than just provide software selection experts; it also has a range of tools to help simplify the evaluation process and substantially mitigate the risk of making a poor software decision.
TEC provided Sam Tell with an experienced project manager who helped the company with its requirements gathering, software vendor interactions, and the development of demo scripts, and ensured that all stages of the selection process were conducted effectively, efficiently, and on schedule. It initially appeared to all parties that Sam Tell required a new integrated ERP system to resolve its IT issues and support the company's growth, but at a critical moment in the selection process, it became clear that Sam Tell could get the vast majority of the functionality it required by simply upgrading the system it already had.
As Sam Tell director of IT Michael J. Sedlock II explains, "If not for TEC, we would never have understood all our options, and would have missed the opportunity to get almost all of what we needed for a much, much smaller investment."
Finding a far more cost-effective solution was only possible because of the work that had been done up to that point using TEC's evaluation and selection methodology and resources. Sam Tell was able to determine what its current and future requirements were, what was available in the ERP marketplace, and how much it could save by upgrading its current system. Adds director of TEC Selection Services Michael Thaw, "It's not unusual for companies to overspend on a new system when an upgrade would do. With our software evaluation and selection tools and expertise, we're able to analyze the situation in depth and show our clients when an upgrade is the right move."
Read the full case study for an in-depth look at Sam Tell's ERP selection project with TEC.
For more information on TEC's software evaluation and selection services, contact +1 514-954-3665, ext. 404, or email selectionservices(at)technologyevaluation(dot)com.
About Technology Evaluation Centers (TEC)
Technology Evaluation Centers (TEC) is the world's leading provider of software selection resources, services, and research materials, helping organizations evaluate and select the best enterprise software for their needs. With its advanced decision-making process and software selection experts, TEC reduces the time, cost, and risk associated with enterprise software selection.
Over 3.5 million subscribers leverage TEC's extensive research and detailed information on more than 1,000 leading software solutions across all major application areas. TEC is recognized as an industry-leading software selection advisory firm offering resources and services both online and onsite. For more information, please visit http://www.technologyevaluation.com.