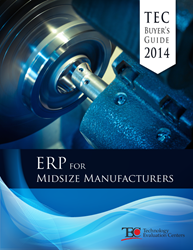 The plethora of ERP software choices available for midsize manufacturers makes it difficult to distinguish value from hype.
Montreal, Quebec (PRWEB) May 27, 2014
Though enterprise resource planning (ERP) software has been around for decades, selecting the right one continues to overwhelm manufacturers. In fact, as midsize manufacturers comprise one of the largest manufacturing segments, they are heavily targeted by software vendors. The plethora of choices available makes it difficult to distinguish value from hype. The TEC 2014 ERP for Midsize Manufacturers Buyer's Guide speaks to the business challenges manufacturers face and provides insight on how to sift through the all the information to uncover the true benefits of the right ERP solution.
Midsize manufacturers occupy a unique segment in the business world—mature and large enough to exploit advanced management concepts and technologies, yet small enough to stay customer-centric and rapidly adapt to changing demands and environments. However, like their larger counterparts, midsize manufacturers deal with similar challenges such as competition on a global scale, pains that come with growth, and the continuous drive to innovate and produce quality products cost-effectively. Therefore, technology such as an ERP system is still an integral component to effectively managing daily processes and is the cornerstone of the evolution and future success of the manufacturer.
ERP software, with its countless permutations, poses a challenge for midsize manufacturers, despite the obvious opportunities the technology offers. According to TEC's advisory services team, many companies are equipped with manual or ill-fitting software and seek advice on what their next best move should be. In particular, they weigh the pros and cons between replacing or upgrading a current system, seeking a best-of-breed solution versus a single all-inclusive one, and choosing between a cloud-based solution and an on-premise one—which is one of the most debated topics in recent years. In fact, research shows that despite the hype over cloud-based solutions, the adoption by manufacturers is still far below what was initially expected.
Exciting emerging technologies are also detailed in the buyer's guide, highlighting the benefits that a manufacturer could achieve by adopting them. For instance, manufacturers can achieve increased productivity with mobile solutions, create real-time environment awareness with the Internet of Things (IoT), develop new products and services that were inconceivable before the advent of 3D printing, and make real-time data processing affordable with embedded in-memory technology.
In partnership with SupplyChainBrain, the TEC 2014 ERP for Midsize Manufacturers Buyer's Guide also includes a special report on the pros and cons of cloud-based ERP software and tips for selecting the right ERP. The guide gives an overview of key features of leading solutions along with customer success stories from the likes of Aptean, Deacom, Epicor, IFS, Microsoft, NetSuite, Oracle, Plex, Process Pro, Rootstock, Syspro, and others. To download a free copy, visit http://www.technologyevaluation.com/research/TEC-buyers-guide/TEC-2014-ERP-for-Midsize-Manufacturers-Buyer-s-Guide.html.
And for more information about TEC's advisory services, contact +1 514-954-3665, extension 404.
About Technology Evaluation Centers Inc. (TEC)
Technology Evaluation Centers (TEC) is a software advisory firm helping private and public sector organizations around the world make informed enterprise software decisions—saving time, money, and heartache. The online Evaluation Centers, containing IT research and extensive software models that catalog vendors' support for thousands of enterprise software features and functions, are the leading resources for IT decision makers around the world. By combining the online evaluation centers and providing onsite personalized advisory services, TEC has developed its offerings and solidified its unique position operating in the cross-section of the software consulting, analyst, and research markets.